Barely noticeable at first but two hours down the line the novelty had properly worn off…
First off, apologies to anyone reading this in the hope of lightening your mood.
I am sat here feeling thoroughly miserable after an evening where a number of occurrences transpired concurrently to induce a sense of everything going wrong at once, and reserve the right to use the platform I've kindly been given, to whinge about it.
A few weeks back, the stars aligned as PSG were soundly beaten at a raucous St James' Park. I don't know if this created a general sense of false confidence or what, but boy were we set up for the sucker punch of last night, where the exact opposite side of that coin was experienced.
To put a slant of pre-match optimism on things, this could have been excellent.
A win would have gone some way towards qualification and all but ended Dortmund's hopes ahead of our journey to Deutschland, and the welcome return of Joe Willock to the matchday squad, gave a sense of being almost at full power for the first time in ages. Wor Flags latest magnificent display covered the whole ground and the only real gripe early on was the wet stuff falling out of the sky, aided by a wind that threw it under the stand and in my usually dry face. This was barely noticeable at first but two hours down the line the novelty had properly worn off.
The alarm bells rang early tonight, as Dortmund had their most productive period in the opening ten minutes. Their counter attack seemed terrifying, as they had clearly done their homework and targeted the lack of pace of Lascelles in particular. Pope saved strongly from the first break away but Borussia repeated the same trick moments later, winning the ball in midfield and motoring down the left before Sabitzer laid it on a plate for Malden. His shot was saved point blank by Pope, who then recovered to produce an even better stop from Fullkrug's follow up. Brilliant by our goalie but worrying that he had got us out of jail so soon.
In between the visitors' breaks, Gordon cut inside and had a decent effort saved by Kobel, with the rebound falling agonisingly close to the following Joelinton, who seemed to be sporting some kind of pink rinse tonight. Maybe we could take advantage of an end to end game, with our attacking prowess? Unfortunately, our attacking prowess was about to be critically blunted.
The sight of Isak sat on the floor after a fairly innocuous passage of play did not seem good, as the physio ran on while the Swede banged the turf in frustration. Things got instantly worse as it became apparent Isak's night was over after 15 minutes. No "see how it is" or "try and run it off". Wilson on, straight down the tunnel and I think we might be lucky to see him again this year as it has emerged as an ongoing groin problem. This can be varying in its severity, but given the lengthy absence last year from a muscle issue and the complications that can arise from injuries in that area (usually one side goes, then the other inevitability follows), it feels like there is now a lot of pressure on Wilson to shoulder the striker's burden for the foreseeable. Given Cal's own injury record, it feels ominous with the big games coming thick and fast and no direct back up option.
I think Isak's withdrawal hit the mood in the crowd a bit, but to be honest, the atmosphere had been well below par before that. PSG was a sense of occasion, a joyous deafening celebration of all things Champions League. This was quite literally a damp squib, as the rain sheeted down and the crowd retreated into its shell, seemingly cowed by Dortmund's multiple drums and consistent, organised racket.
I can't explain why things were so dour.
The rain certainly a factor but blaming weather is a mugs game. I think the element of Wor Flags display involving holding cards up pre match looked impressive on the TV, but may have been a misstep, as everyone in my area was basically blind to the players emergence and unable to use their hands in any show of support.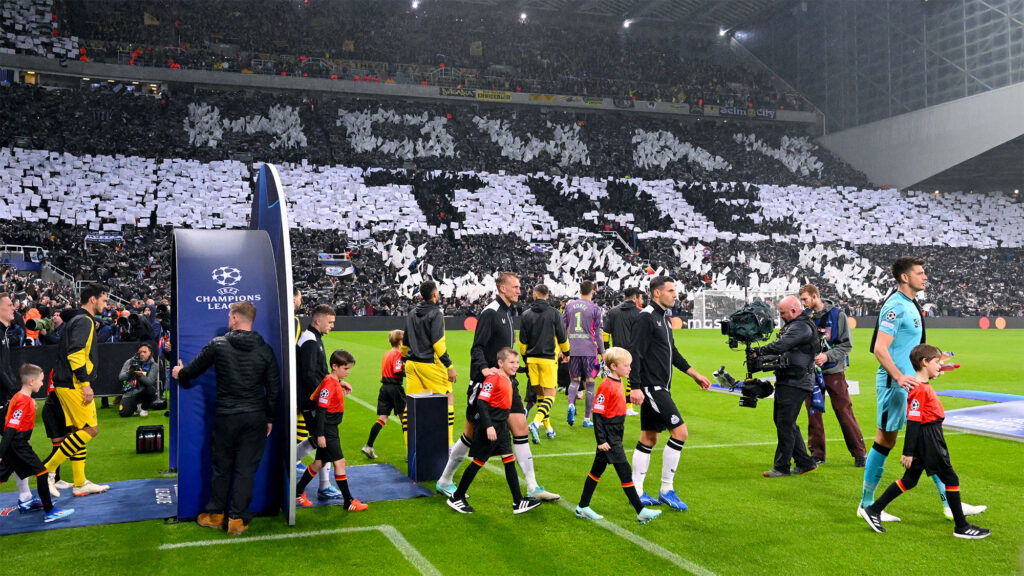 There have also been many suggestions that the club's scattergun ballot-based ticketing policy has diluted the hardcore of support as it becomes possible for more reserved, previously disinterested fans there to spectate rather than support, to jump to the front of the queue via the distribution lottery.
There is probably a small element of all of this involved but overall Dortmund just bossed the atmosphere and this was a massive loss for us as fans. Whereas the Parisian drum was taken as a challenge to be louder, the more organised and voluminous German beat was difficult to overcome. Don't know if the answer is a drum of our own, or to cynically ban any away crowd from using theirs, but this was a big factor.
Another element was the way the teams seemed to handle the weather afflicted game, with the ball sliding about and rolling off the pitch at the slightest encouragement. It felt like Dortmund were a bit more assured in possession and dealt with the movement more comfortably, as United had the look of a side chasing the game even at 0-0.
Still, despite all of this the game was decided on a fine margin. I'd already said out loud that we could come out of this well if we got to half time and had a regroup, as Eddie's mags have often shown their capability to shake off a poor opening with a stellar second period. Borussia cattled that by landing their sucker punch in the final minute of normal time. Gordon was firmly dispossessed in the middle of the pitch, Schlotterbeck led that same break again, down the left, just outside of Lascelles. He ultimately cut it back for Nmecha to finish smartly with a first time shot. Hammer blow.
The agonising thing is that Newcastle did indeed come out the better side after half time and I firmly believe had we not conceded that effort, this would be a report in a very different vein. However, you soon got the feeling that it just wasn't going to be our day. This was epitomised by the moment I thought we'd sorted it out, as Schar used the conditions to thunder in a magnificent sliding tackle that flew through to Wilson on the edge of the box. A one-two with Gordon presented Cal with the sort of chance he has always buried for fun and we waited for the net to bulge ahead of taking the game to them for the final half hour. Kobel pulled off a tremendous block. Agony.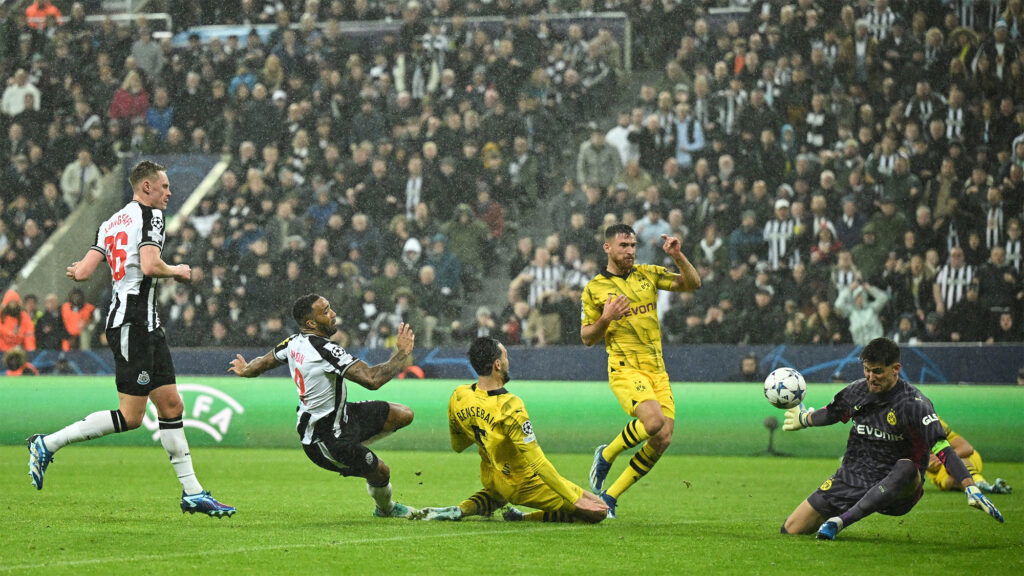 The closing stages provided more cause for head in hands. First, Wilson again got a head / shoulder combo on Targett's free kick, only to smack the crossbar with the keeper beaten. Then Tonali's shot broke to Gordon in the box and his effort was deflected on to pretty much the exact same spot of the bar. Game over.
It seems frivolous to be cursing this slice of bad juju in the midst of all our excellent progress, as we sit on four points in the group, with a superior goal difference to Dortmund but behind them in third due to head to head being the decisive factor.
However, the ominous prospect of a pair of away trips to Germany and France would suggest we would do very well to improve on third before the visit of Milan in December.
Ultimately it comes down to the fact that we probably need a result in Dortmund. Win and it's back on, draw and we maybe need something from Paris. Lose and we may need to target the Europa league spot.
Given how even the sides were across the 90 minutes, you may have some hope for the rematch, albeit as the visiting team. But it feels difficult to raise optimism after the Isak injury, given the trio of tough domestic fixtures ahead of the trip. After his excellent performance on Saturday, Jacob Murphy is also set for an absence, falling and dislocating his shoulder minutes after coming on.
The fact that Elliot Anderson was unexpectedly absent with a back complaint set to last a few weeks and the much publicised situation with Tonali saw this become his last appearance for a long while, means we are suddenly cripplingly light in midfield and attack. A midfield three of Longstaff, Bruno and Joelinton is an excellent set up, as is a forward line of Wilson, Almiron and Gordon, but Willock is the only established option to supplement these six, if he is fully able to as he recuperates himself. The fact that Joelinton is still coming back from persistent injuries and Bruno is one yellow away from a suspension, does not add any joy to this situation.
So, we just need to go one game at a time as Eddie assesses his options. I am actually terrified at the prospect of injury claiming any key personnel before the return with the black and yellows, but I simultaneously feel we need to give both the forthcoming league games and the Carabao Cup full attention. If things go wrong in Deutschland, both these competitions will have increased priority.
So, there it is, a very different mood to the one that followed that balmy night against Paris. As I sit here dealing with the after effects of a soaking and a painful defeat, it's perhaps worth remembering we're still in there, fighting for a future in Europe's premier competition. Here's hoping we're fighting fit enough for the challenges ahead.
Stats via BBC Sport:
Newcastle 0 Borussia Dortmund 1 – Wednesday 25 October 8pm
Goals:
Newcastle United:
Nmecha 45
Borussia Dortmund:
Possession was Dortmund 40%  Newcastle 60%
Total shots were Dortmund 13 Newcastle 12
Shots on target were Dortmund 5 Newcastle 3
Corners were Dortmund 9 Newcastle 11
Referee: Artur Manuel Soares Dias
Newcastle team v Borussia Dortmund:
Pope, Trippier, Lascelles, Schar, Burn (Targett 70), Longstaff (Tonali 65), Bruno, Joelinton (Murphy 65 (Willock 70), Almiron, Isak (Wilson 15), Gordon
SUBS:
Dubravka, Karius, Dummett, Hall, Livramento
(3 Positives and 3 Negatives to take from Newcastle 0 Borussia Dortmund 1 – Read HERE)
(Newcastle 0 Borussia Dortmund 1 – Match ratings and comments on all of the NUFC players – Read HERE)
(Newcastle United injury update after Borussia Dortmund defeat – Three pieces of bad news – Read HERE)
(Newcastle 0 Borussia Dortmund 1 – Instant NUFC fan / writer reaction – Read HERE)
Newcastle United upcoming matches:
Saturday 28 October 2023 – Wolves v Newcastle (5.30pm) Sky Sports
Wednesday 1 November 2023 – Manchester United v Newcastle United (8.15pm) Sky Sports
Saturday 4 November 2023 – Newcastle v Arsenal (5.30pm) Sky Sports
Tuesday 7 November 2023 – Borussia Dortmund v Newcastle (5.45pm) TNT Sports
Saturday 11 November 2023 – Bournemouth v Newcastle (5.30pm) Sky Sports
Saturday 2 December 2023 – Newcastle United v Manchester United (8pm) TNT Sports
You can follow the author on Twitter @Mr_Dolf