Sandro Tonali – We have got your back
It seems everyone has an opinion on our midfielder, Sandro Tonali, who has just received an eighteen month ban for breaking rules concerning betting on football matches, with eight of them commuted to alternative prescriptions.
Such alternative prescriptions, confirmed by the Italian Football Federation (FIGC) involve participation in a therapeutic plan lasting at least eight months and in a cycle of at least sixteen public meetings in Italy, at a combination of amateur sports associations, federal territorial centres and centres for recovery from gambling addiction.
I was pleased to see an article on The Mag, "Sandro Tonali shouldn't have received a lengthy ban" in which the author reported that the Big Step (part of the Gambling with Lives charity) had expressed their support for the Italian, suggesting that "footballers are human and if they are suffering from addiction, they deserve empathy and support, not lengthy bans".
The Big Step also said that "Tonali's reported addiction is further evidence that football should distance itself from gambling". It reiterated calls for an end to all gambling advertising and sponsorship in English football.
As an adolescent, I was addicted to slot machines, thankfully for a relatively short time and with little in the way of truly adverse consequences.
In the mid-1980s there were a plethora of amusement arcades within easy reach of where I grew up. There was little enforcement of the requisite age limit one needed to have attained to enter these dens of iniquity and my first experience, with a mate who already showed signs of addiction and as far as I'm aware, still plays the slots to this day, was fantastic, converting a couple of quid into seven or eight.
Thinking it was that easy, the winnings were of course, soon ploughed back and I spent the next eighteen months or so skint, disbursing all my disposable income to get my fix, sometimes experiencing the highs of winning whilst not exactly realising that you always lose, everything ending up back in the machines.
At this time, my earnings were paltry. Thankfully. Part time work to supplement sixth form, although I wasn't much worse off than my mates who were employed in a variety of roles ranging from gravedigger to shop assistant, thanks to Thatcher's Youth Training Scheme.
Playing the slots and congregating in such places provided a fascinating, often sad, but also hilarious insight into life. There was the family man who routinely lost his wages every Thursday within the space of a couple of hours and the guy who was an ever present in one city centre establishment who was totally crazy and would do almost anything for a tab or a press of the button to send the reels on Snappy Viper spinning. Then there were the folk who worked in these places, regaling young 'uns like me and my mates with bizarre stories concerning who had been in earlier. or what they got up to away from their place of employment, which by the way, was quite unpleasant – dark and dingy, and with an odour that was as distinctive as it was foul.
A real low point came just before Christmas 1986, when the acappella hit, Caravan of Love by the Housemartins reached number one (only to be denied the Christmas slot a week later by a posthumous re-release of Jackie Wilson's Reet Petite).
My mate had been given a wad of cash by his mother to buy himself some Christmas clobber and instead of hitting Olympus Sport in Eldon Square or Marcus Price on Grey Street, we made our way into the JET amusement arcade on Pilgrim Street where the Christmas lowie was soon being deployed to engage the likes of Line Up and Options Unlimited. Needless to say, we left the joint stoney broke, crestfallen and in serious trouble when news of our misdemeanour reached my mate's mother.
These places could be seriously harmful for your health also, and I don't just mean the highly addictive pastime, or even the passive smoking. I would also frequent these places when visiting cities across the land to watch Newcastle United and I've described a terrifying episode on The Mag at an amusement arcade near Digbeth bus station before we played Birmingham City in 1985.
My salvation? Funnily enough, something that is also addictive and can also do serious harm. Alcohol.
As I got closer to my eighteenth birthday, I found myself increasingly drawn to pubs instead of amusement arcades. And, although they had fruit machine in the bars I was taking up residency in, they weren't quite the same. I didn't know the reels and didn't understand how these machines worked. The cost of spinning the reel doubled to twenty pence around that time and that was me finished. No cold turkey as such, just a desire to spend my money on something else, that something else being just as addictive but thankfully, not to the point where I couldn't go without a drink. Thankfully, I haven't played the slots since and I very rarely gamble on anything.
I've seen folk on various forums want to believe that Tonali's addiction was known to AC Milan when they agreed to sell him at a (supposedly) cut price £55 million. There are absolutely no credible reports to even suggest there is a scrap of truth in this.
What I would say is that some folk either have short memories or are not that well informed in the first place. Serie A is not awash with cash and whilst the Tonali sale didn't go down well with the massed ranks of the Curva Sud, the Rossoneri wasted no time enacting a summer strategy to pick up young but not inexperienced talent, allowing them to still compete at the top of Serie A but also with an eye on the resale value, thereby ensuring the sustainability of the club. Indeed, a host of new signings such as Ruben Loftus-Cheek, Samuel Chukwueze, Christian Pulisic, Tijjani Reijnders and Marco Sportiello all featured in our game at the San Siro last month.
There have also been those wanting to claim that the Saudis will sue Milan. Once again, absolutely no credible reports to even suggest there is a scrap of truth in this.
As for Sandro Tonali himself, the Italian is a Newcastle United employee, so his legal relationship with the club is governed by a boilerplate agreement administered across the Premier League which will typically include a series of requirements such as not bringing a club into disrepute. If Tonali has breached such responsibilities, the agreement outlines various forms of sanction and I've no doubt the club will be punishing Tonali as much as it is supporting him.
We don't need to know about the punishment that's been meted out and I suspect that it will be kept confidential. It's the support that needs to be visible to fans which after all, is what the Big Step has advocated. Because it is the FIGC who have imposed the ban and the alternative prescriptions need to be undertaken on Italian soil (as well as online), makes this sorry saga complex, but there must be an opportunity for Sandro Tonali to engage in a range of community-based activities closer to his new home, through the likes of the NUFC Foundation and the Fans Foodbank.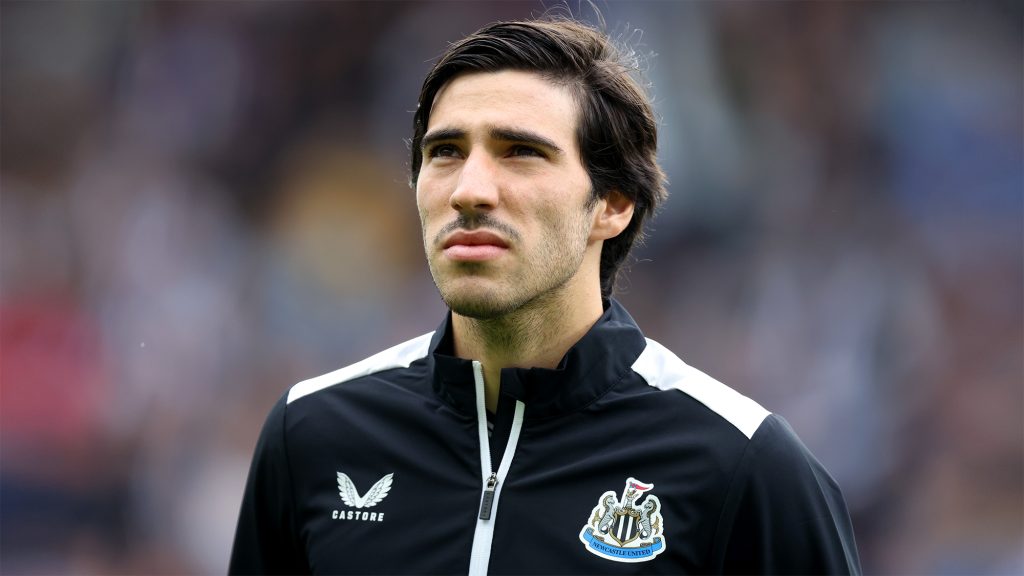 Sandro Tonali is a young man. Yes, he is a millionaire and role model and with that comes a certain amount of responsibility, but the lad is in a foreign country, largely cut off from friends and family in a way that say, Sean Longstaff or Dan Burn aren't. He looks haunted by this whole episode, the strain evident to see and my hunch is that Newcastle United represented a brand new start, away from Italy and quite possibly away from the gambling. He started like a house on fire with a goal and MOTM display against Aston Villa but then faltered. Is that when the investigation caught up with him? I'm inclined to think it might have been.
Sandro Tonali must be in agony right now and I wholeheartedly agree with the Big Step. A lengthy ban hurts Tonali as much as his employer and it was a relief to see that he can still train with the first team and even participate in friendlies.
He received the backing of a full house at St James' Park last weekend when he appeared in our 4-0 thumping of Crystal Palace and his name was being chanted once again as he came on as a substitute against Dortmund in midweek. There is little merit in piling further humiliation and embarrassment on the lad and it's been hugely encouraging to see Eddie put his arm around our midfielder, offering his and the club's unconditional support.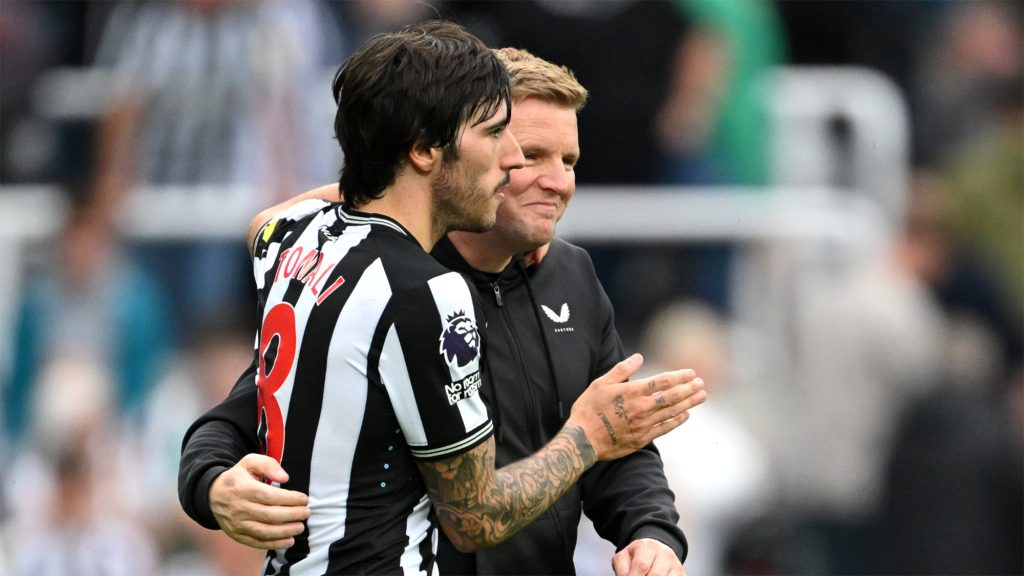 Some have speculated that the ten month ban and Eddie's inability to select Tonali could be seen as akin to a serious injury, sustained in one of our recent matches. Maybe, but goodness knows, we can do without someone else occupying the treatment table.
Coming back from a lengthy injury is always difficult, so in some respects time off because of a ban for breaching gambling regulations is probably preferable in many respects to recovering from a bad injury.
Sandro Tonali, we have your back.
Well, most of us do.
Please don't spurn the opportunity to get your head right, learn the language, continue to integrate into the club and region, maintain your fitness, engage in community activities here as well as in Italy and come back next season as the proverbial new signing.
It's in your hands.
HTL