Why supporting Newcastle United is not just about winning (A must read)
This was going to be the greatest story ever told: how, in seven short days, Newcastle United humbled a small club from Salford in their own back yard, then battled their way to a deserved victory over some skilful but cynical fancy dans from London, before finally going toe-to-toe with a Germanic giant in one of the world's best football stadiums.
And that is what happened, although the last chapter didn't pan out as we had all hoped.
When I say all, I mean the 10,000, perhaps 15,000, maybe even more foot soldiers from the Toon Army who surged into Dusseldorf on Monday and Tuesday, declaring their love for the Mags while representing the countless hordes back home with passion and pride.
The story was all written, two-thirds typed, checked, retyped, tweaked and stored on the trusty laptop before I set off on Monday.
The remaining third was in my head, simply awaiting a worthy climax to what for me has been the most fabulous time to be a supporter of United.
Being a pretentious old hack, I likened our seven days to a ground-breaking television programme from the early 1960s. It was called TW3 for short, That Was The Week That Was in full. It shook the Establishment to its core. Rather like Eddie's men shook the football establishment to its core by defeating Manchester United, Arsenal and, erm . . .
Well, as the proverb tells us, there's many a slip twixt cup and lip. This is the rewrite, with an awful lot now spiked forever. We didn't win on Tuesday night, we didn't escape with an honourable draw. We are now fourth of four in the Group of Death and the bookies have decided that's us done and dusted. Two games, four points was a fantastic return. Four games, four points doesn't quite cut the mustard.
However, having had nearly 48 hours to reflect on what went on in Germany, I can see clearly now, the rain is gone, it's gonna be a bright, bright, bright sun-shiny day. Thank you, Johnny Nash, for a top song.
I left Worthing for London by train on Monday at 08.00 GMT, arriving at Dortmund bus station 19 hours and 10 minutes later on the second of two long-distance Flixbus services. For bus station, picture an elongated lay-by next to the city's impressive central Hauptbanhof (Hbf). They do public transport properly on the Continent. Railway stations and bus terminals sit side-by-side.
Fortunately, the weather was dry and mild. Not many locals were up and about at that ungodly hour. I counted a dozen or more rough sleepers on the Hbf floor, the tip of a big problem in a big city. Talking to residents over the next 60 hours, I was told cocaine and crystal meth were doing a lot of damage. As Joan Baez sang: "There but for fortune go you or I." Another top song.
And how fortunate was I, able to watch United play in the UEFA Champions League more than 20 years on from that trip to the San Siro? Tickets were far easier to acquire in those days. This time, having booked trains and buses minutes after the final whistle of the 0-0 against Milan in September, I had expected to sit in a bar with a few mates and have good fun. Fortune intervened unexpectedly and, the day before the match, I was suddenly Mr Popular, the lucky, lucky holder of three corporate tickets. More of that later.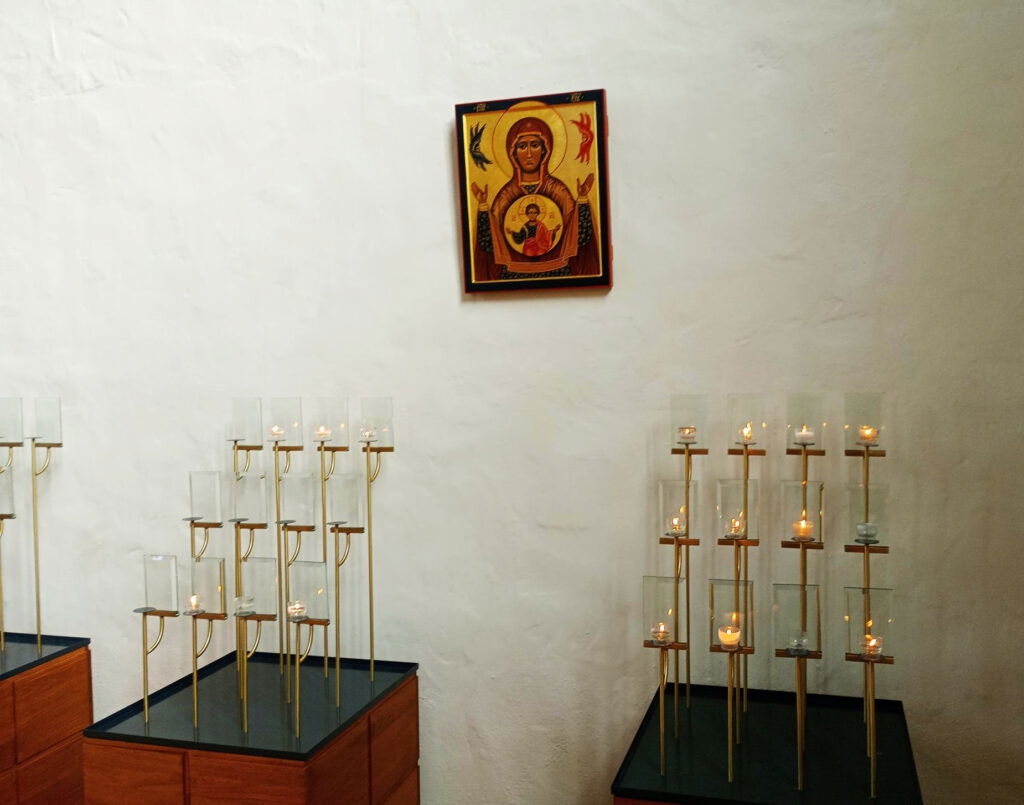 'St Peter's church – A candle of hope: top row, third left, on the right'
Daylight arrived about 7am, by when I had downed three or four hot drinks and a couple of pastries. There's a 24-hour McDonald's but all the seats were cordoned off, to discourage the vagrants. And there were not toilets in McD's.
An excellent chain of cafes called Backwerk that opens at 5.30 was busy with early commuters. Backwerk is the exception. Most eateries start serving at 9am, nearly all shops at 10am. Germany is full of surprises, few of them unpleasant.
While waiting for my far more sensible mates (they had all flown from England to Dusseldorf) I spent a couple of hours at the German Football Museum, a two-minute walk from the Hbf. Anoraks generally love museums. This one is a belter.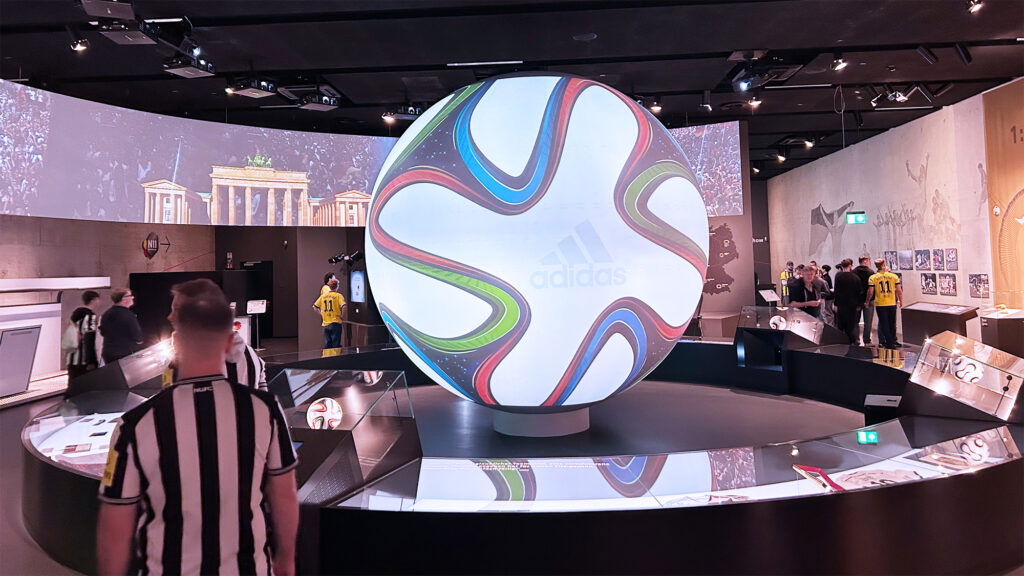 So many brilliant exhibits, telling the story across 150 years or so of a country's achievements in the world's greatest sport. Loads of videos, interactive displays, quirky bits and pieces. The cafe was good value, too.
Somebody once said Germans were arrogant. Well, they have a lot to be arrogant about. As four-time world champions and three-time European champions, why should they be backward at coming forward?
My sensible mates finally arrived about midday, having somehow avoided the umpteen ICE express services. Instead, they had jumped on the slowest Dusseldorf-Dortmund train of the year. Think Will Hay in Oh, Mr Porter! Or Frankie Howerd in The Great St Trinian's Train Robbery.
They all checked in at the centrally located Basecamp Hotel. I was without a room, looking to kip on a bedroom floor once they were too drunk to notice. Or to care. To be fair, I was Mr Popular. Surely a top ticket was a fair exchange for a free bed? Thank you, Chris. You're a gent.
I had made a quick enquiry at the Mercure. Very quick. The offer was a one-night stay, with breakfast, for a mere 250 euros. The two-metre-tall receptionist, for some unfathomable reason, seemed shocked when I rejected that reasonable deal. "It will be the same everywhere," she said pleasantly as I walked away. "Oh, no, it won't," I was tempted to reply. "Don't you know who I am? I'm Mr Popular, me."
Time to fess up, because the first job at Basecamp was to print off the emailed tickets. The great team at reception couldn't have been more helpful. Twenty minutes after checking in, three of us were clutching the nearest thing to gold dust east of the Klondike.
I need to thank several people who shall remain nameless. These were corporate tickets, wing stand, only eight rows from the touchline and 13 yards outside the penalty area. I know this, because the stripes in the turf were each six yards deep and I counted five stripes and a smidgeon between the goal-line and my seat. Being an anorak can pay dividends.
Most of all, I should thank the readers of The Mag who have, perhaps unwittingly, encouraged me to write more than 60 articles in the past few years. Without their support and comments, I probably would have found another hobby. And if a Mr Big in one of the Champions League sponsors hadn't read my ramblings, I would have been ticketless. And not so popular . . .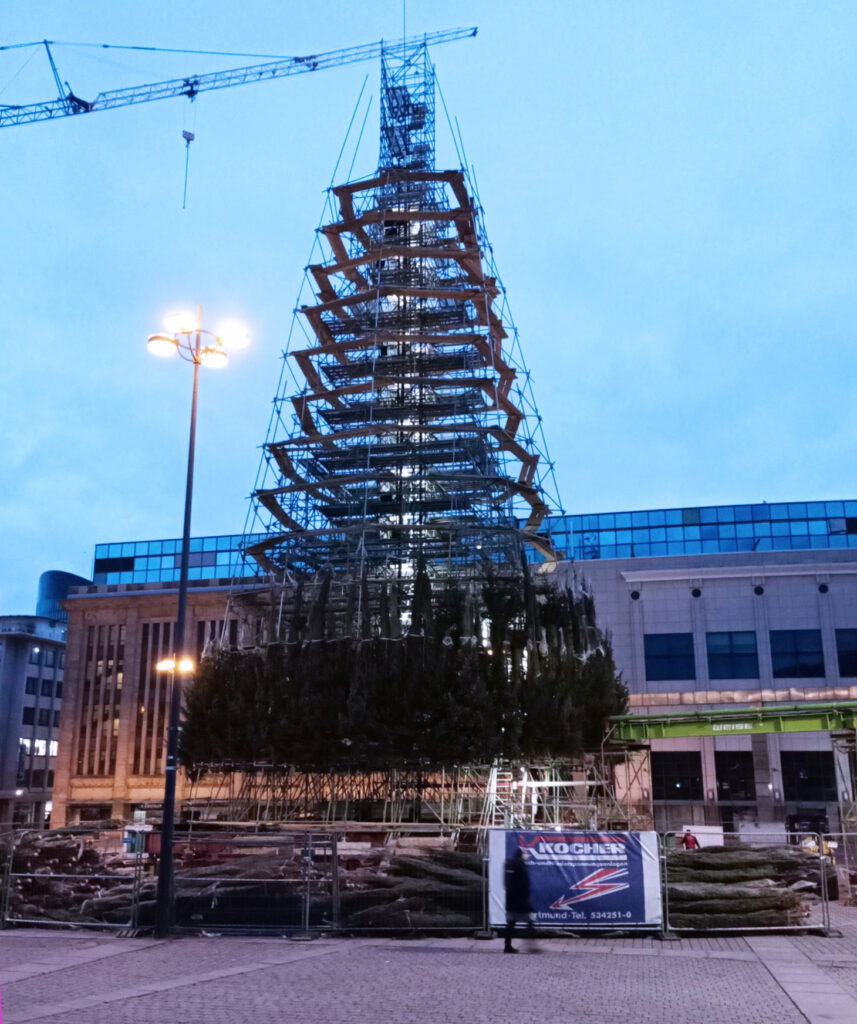 'German green engineering: the gigantic Dortmund Christmas tree being assembled from hundreds of…Christmas trees'
The afternoon was spent the way it should be spent, drinking in a stronghold of Borussia Dortmund fans about 200 yards from the main square. I had clocked the pub in my pre-dawn circuit of the city centre (it was difficult to miss, festooned in yellow and black) and initially thought it would be one to avoid. Completely wrong. The staff, including the stern-faced but genial blonde who ran a tight ship, were wunderbar. So were all the Dortmund fans we encountered. Time after time, I offered them a point, saying we would be happy to take an honourable draw. "Let's call the whole thing off and just keep drinking and singing and drinking . . . " Understandably, there were no takers among the locals. "Sorry, we need the three points, sorry . . . "
Back in the main square, there was only one winner. Well, two if you count the alcohol vendors who showed that famed German efficiency by selling crates of beer direct to the thousands of thirsty Mags, rather than bothering with the usual practice of actually pouring the stuff. When there is hardly room to walk, never mind kick a football as high as the tallest shop roof, the trip hazard is typically a stray bottle or two. In Dortmund, it was hundreds of plastic crates. If you barked your shins on one, though, it was no big deal. They all seemed to be empty as soon as they came to rest on the cobbles.
By now, you all know the stars of the pre-match show were Nick Pope's mum and dad, who were given a deafening welcome when they stepped onto the DJ's stage. My favourite memory will be the top-floor window of C&A at about 4pm. Why I looked up, I'll never know. But I did, just in time to see the two life-sized mannequins disappearing behind a quite brilliant banner. It showed caricatures of three messiahs: Kevin Keegan, Sir Bobby Robson and, front and centre, Emperor Eddie.
Within seconds, this impromptu window dressing had gone, presumably before security staff could apprehend the pranksters.
Let's hope it becomes a staple at St James' Park.
The DJ played a blinder, with and without the music. His announcement that the gates were open had the desired effect.
The train ride to Westfalenstadion was not for the claustrophobic or faint-hearted; louder than Deep Purple at Knebworth in 85, I would guess. There is always, of course, a fool or two trying to dodge the queues for the ascending escalators by running up the empty downward one. Top tip: the distance between the steps is a lot shallower at the top than on the lung-bursting sprint up. Just remember that. And then, perhaps, you will avoid falling to your knees and heading back down in an inglorious heap.
You might think the match itself was an anticlimax. I disagree. Being there, being almost deafened by the Yellow Wall, being able to scream encouragement whenever we attacked or repelled Dortmund, now that is priceless.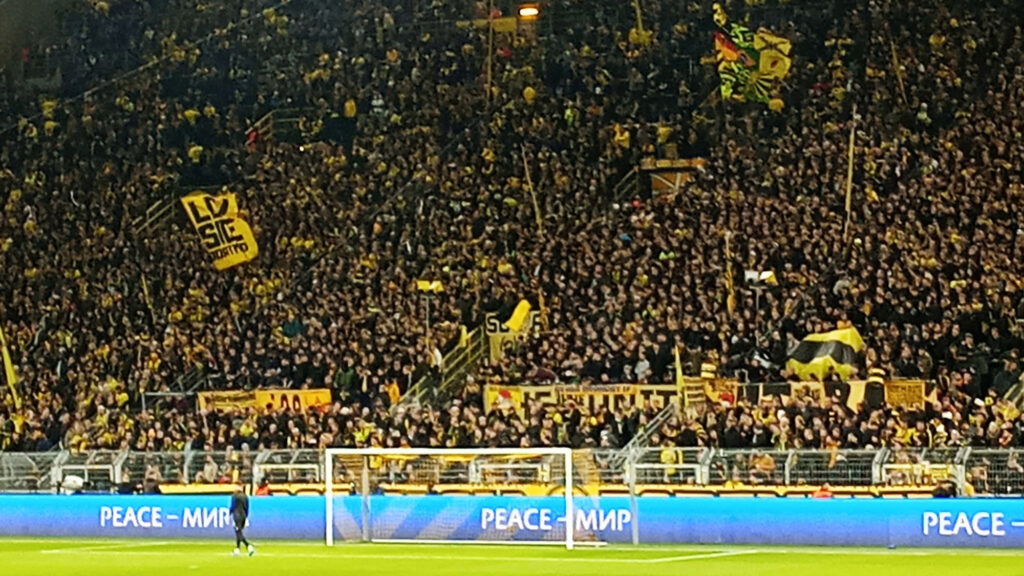 'Just a small section of the fanatical Dortmund wall'
Yes, the result was not what we wanted or needed. But we live to fight another day.
The return to Sussex was even more elongated than the outward journey, which had featured a wait of nearly four hours in Brussels for my second Flixbus to arrive. The stopover was scheduled to be one hour, which, in what must surely be the world's most boring capital, would have been an hour too much. But because the first bus arrived 50 minutes early and the second more than two hours late, I had to go searching for food and drink near Brussels Nord station. If you are ever tempted, just don't. A city with less soul is impossible to imagine.
On the return leg, spanning Wednesday and Thursday, Flixbus threw in a Calais-Dover ferry crossing at 4am, presumably because the Channel tunnel is just too straightforward. And quick. And painless. Not so, the ferry. Or the check-in at Calais, especially for one drunken passenger on our bus, who had to be evicted by French police. Not me, if you were wondering . . .
I've done the math. Door-to-Hbf on the way out was, as I might have said earlier, just over 19 hours. Dortmund bus "station" to home, even with the delayed ferry and an epic traffic jam in south London, where our long-suffering driver moved 200 yards in 50 minutes, was just over 20 hours.
The cost? Just under £100 for the round-trip, all in. I would do it all again next week, given the chance. But perhaps I would let the train take the strain. Or even the plane.
It was, despite the disappointing final result, still the greatest week of my 50-odd (very odd) years of supporting Newcastle United. Long may it continue.