Updated Premier League form table ahead of Newcastle United taking on Chelsea – Interesting
This (see below) is how the Premier League form table looks ahead of next weekend's action.
Newcastle United having had a fortnight to regroup.
Eddie Howe's side having gone into the international break with that disappointing defeat at Bournemouth, which had a number of mitigating factors.
So here is the newly updated Premier League form table, which covers the past six matches for all teams, ahead of Newcastle United hosting Chelsea on Saturday:
The last six results for Newcastle United with very latest one listed first:
Bournemouth 2 Newcastle 0
Newcastle 1 Arsenal 0
Wolves 2 Newcastle 2
West Ham 2 Newcastle 2
Newcastle 2 Burnley 0
Then the same for Chelsea and their last six PL matches:
Chelsea 4 Man City 4
Tottenham 1 Chelsea 4
Chelsea 0 Brentford 2
Chelsea 2 Arsenal 2
Burnley 1 Chelsea 4
Fulham 0 Chelsea 2
As you can see, Newcastle United now seventh in this newly updated Premier League form table.
NUFC with eleven points from three wins, two draws and that one defeat at Bournemouth. Eleven goals scored and six conceded.
Whilst Chelsea are sixth in the form table, the exact same record as Newcastle United with eleven points from three wins, two draws and just the one defeat. Sixteen goals scored and ten conceded.
Chelsea scoring a lot of goals now AND conceding plenty. Interesting to compare to their first six matches, when Chelsea picked up only five points and one win, scoring only five goals and conceding six.
(***If Newcastle United had won at Bournemouth, then they would have been at the very top of this six match Premier League form table)
Actually, if you extend the Premier League form table to the last eight matches, the records of the two clubs are:
Newcastle United: Played 8 Won 5 Drawn 2 Lost 1 Goals For 20 Goals Against 6 (Points 17)
Chelsea: Played 8 Won 3 Drawn 3 Lost 2 Goals For 16 Goals Against 11 (Points 12)
This is how the Premier League table currently now looks on Monday 20 November 2023: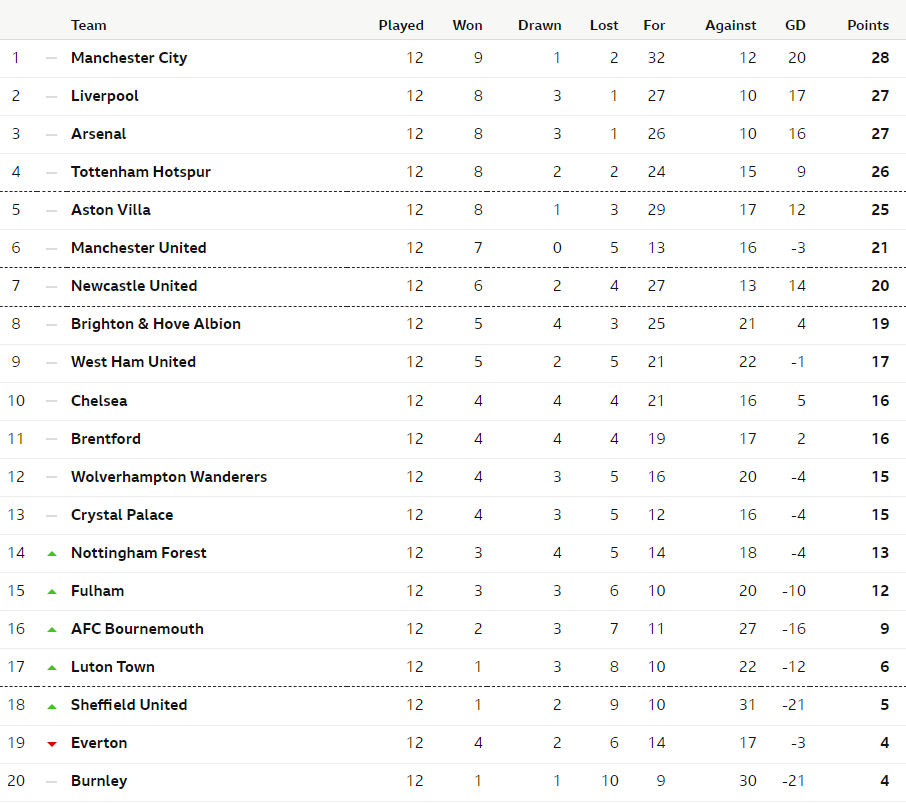 Last November in the final match before the Qatar World Cup break, Newcastle won 1-0 at home against Chelsea, in what felt a massive result.
This time the same fixture to be played after the November international break, Newcastle could stretch the gap between the two teams to seven points, whilst Chelsea could narrow that gap to only one point.
Clearly a huge game, potentially, for both sides. I would settle for another 1-0 home win but I have to admit, on the recent form of the two teams, I would be amazed if only one goal scored in the 90 minutes.