Time to stop banging the drum at St James' Park
Our full stadium, fan fervour and Wor Flags have helped make St James' Park increasingly intimidating for visiting Premier League teams.
Our crowd is often referred to as the "12th man". We love that.
However, right now "fortress" St James' Park is under threat.
The incessant drum beat from the PSG away end and then Dortmund. Last midweek against the Bundesliga side, it almost drowned out and seemed to largely neutralise our normally raucous support.
The constant banging is irritating to all, unpleasant to say the least and likely a health hazard to those close by. It was a distraction the whole game long, hugely detracted from the match day experience and has drawn widespread criticism from our dedicated NUFC fan base.
Some would argue that the drum beat is part of The Champions League vibe but I would argue differently.
It can almost overwhelm home support and might well have a detrimental effect on a team's home advantage and performance. I wouldn't want my seat to be close to those drums.
The Club's "Visiting Fan Guide" is excellent and should be helpful to home fans too.
It lists banned items and as you can see from this screenshot of just some of those prohibited items, air horns AND drums are amongst what is not allowed inside St James' Park.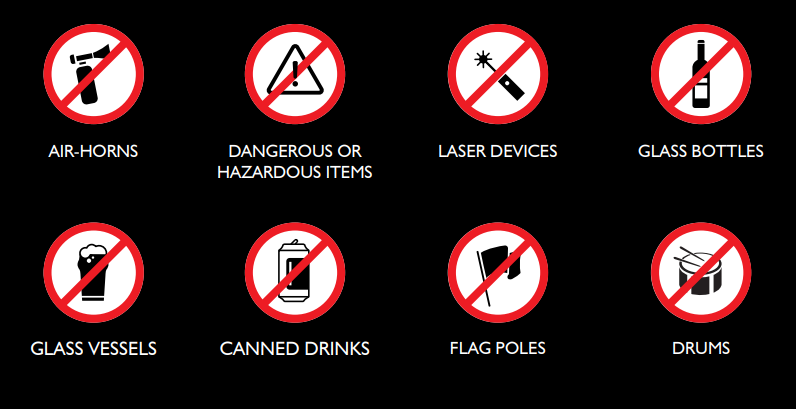 I am totally behind our owners and their management team, so I hope they will urgently address this issue and enforce their own rules. We are counting on you Darren Eales, I hope you are on the case and that we will have our stadium back for AC Milan's visit.
I wrote to 'Supporter Services' at Newcastle United to raise my concerns following the Dortmund match (and the earlier PSG one), I have now received this reply:
'Thank you for getting in touch and for raising your concerns.
On a matchday, the use of drums are on the list of prohibited items entering into the stadium. Although, we must also consider the safety and security of our stewards alongside the safety and security of our spectators. For this reason, given that the risk of the drums was not assessed in such a way that their presence in the ground would create an intolerable risk to crowd safety, to try and confiscate them in the circumstances would have posed a disproportionate risk to our stewards and supporters.
We endeavour to confiscate the drums off the Milan fans should they attempt to bring the drums into the stadium.
We do apologise for any inconvenience this may have caused but thank you for passing along your feedback.'
Here's hoping this time the St James' Park club rules are enforced when AC Milan visit next month.
Howay the lads!