The Premier League table never lies?
I have been taking a look at the Premier League table this Monday morning.
Not just basking in the glow of where that win against Arsenal together with Villa and Liverpool underperforming yesterday puts us, but also to understand whether, with 11 games on the board, we're underachieving or otherwise.
This time last season, we had won four, drawn six and lost only once, with a total of eighteen points from eleven games. This time around, whilst we've registered three defeats, our six wins and two draws mean that we are two points better off at the same stage of the season.
In terms of goal difference, we had +9 after eleven games last season, this time around it's +16 and although we've conceded two more, on the flipside Newcastle United have scored a colossal nine more from those first eleven games.
In relative terms, we stand in exactly the same position i.e. sixth, but our points tally is two closer to the team in pole position.
All well and good, but this was the point in time last season where our form really took off, so I began to consider whether our start to this season had been any more difficult than that of our closest rivals. With away games at Man City and Brighton and home games against Arsenal, Liverpool and Villa, it certainly feels like it. In fact, of our nearest rivals, only Brighton have so far faced five of the top eight with all the others having played only four of the current top eight.
Looking at this lot, I devised a simple methodology to test my theory that our start has been more onerous, and I was proved correct.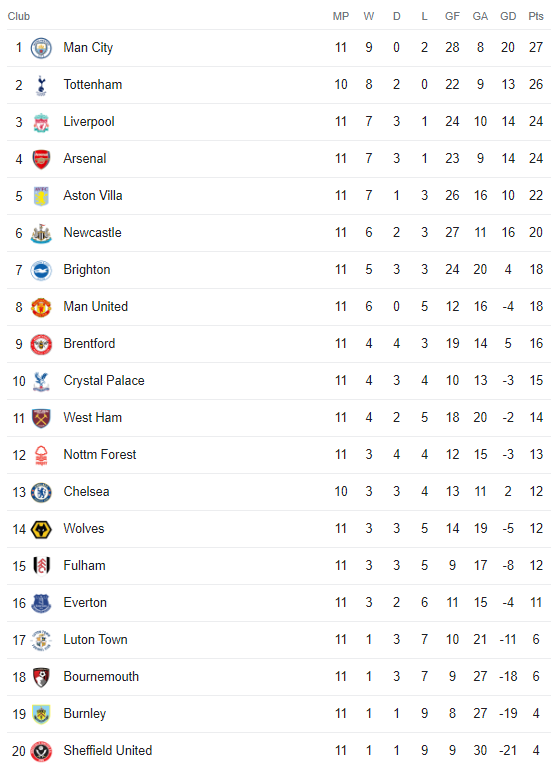 If you note today's position in the Premier League table of everyone the top eight has encountered so far, sum up those positions and then divide by eleven (the number of games played) then it is interesting to see that the average position of everyone Newcastle United have played so far, is ninth.
Over a 38 game season, the average is of course eleven. So, after eleven games, we have played on average, teams in the Premier League that are two places higher than what you encounter over a full season. Our average is also the highest of the top eight teams, being one place higher than the average Brighton and Man Utd have played (which is tenth), two higher than Liverpool and Arsenal (eleventh) and three higher than Man City, Spurs and Villa (twelfth).
I believe this points to what all of us have been thinking, Newcastle United have had a much harder start to the campaign than our nearest rivals. It is striking that Brighton and Man Utd, with the next highest average, both sit beneath us in the table and that the darlings of the media Villa, have had, along with Man City and Spurs, the easier of starts.
Next up are eighteenth placed Bournemouth, before we play thirteenth placed Chelsea immediately after the international break. On the same weekend, Man City face Liverpool at the Etihad and Villa travel to Spurs. Man City then play Spurs the following week.
My point?
Whilst we need to continue our unbeaten run and start to convert away draws into wins, I believe that our next few fixtures provide the opportunity to do just that. The old adage, the league table never lies is only true at the end of the season, so for anyone panicking elven games in, my advice is, don't. HTL.