The main point I need to get across right now is that here was completely utterly brilliant
This was probably the decisive moment I reckon.
The Champions League had opened spectacularly, with a draw in Milan followed by that stunning night against PSG.
However, when the rain, the Isak injury and second best performance had seen the points dropped at home against Dortmund, Tuesday night took on increased significance. Not many survive a double and still progress from a Champions League group.
The job for tonight was to reverse that St James' Park loss. Win, and we're back on course for Champions League progression. Draw, and we likely need something in Paris. Lose, and we maybe need to think about battling for the Europa League.
The squad was already threadbare after the incessant barrage of recent injuries, but even with the limited choice, there were surprises in the starting line up, with Livramento deployed in a wide attacking role and Hall in at left back. Almiron and Gordon on the bench was a shock to all but there was strong faith that Eddie had a plan.
Eddie's plan deserves the utmost respect because it has delivered us here. And the main point I need to get across right now is that here was completely utterly brilliant.
The morning in Dortmund was spent at the German football museum.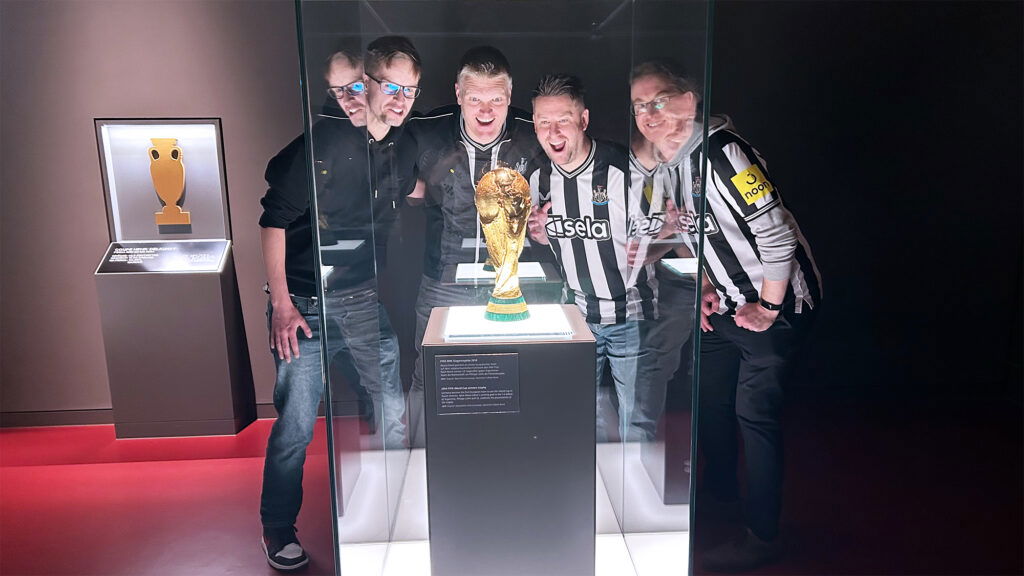 Which is a spectacular display celebrating the country's impressive international history, including interactive football games that I was the best at, winning the dribbling challenge by three clear seconds (although Simon insisted he had the wrong shoes on).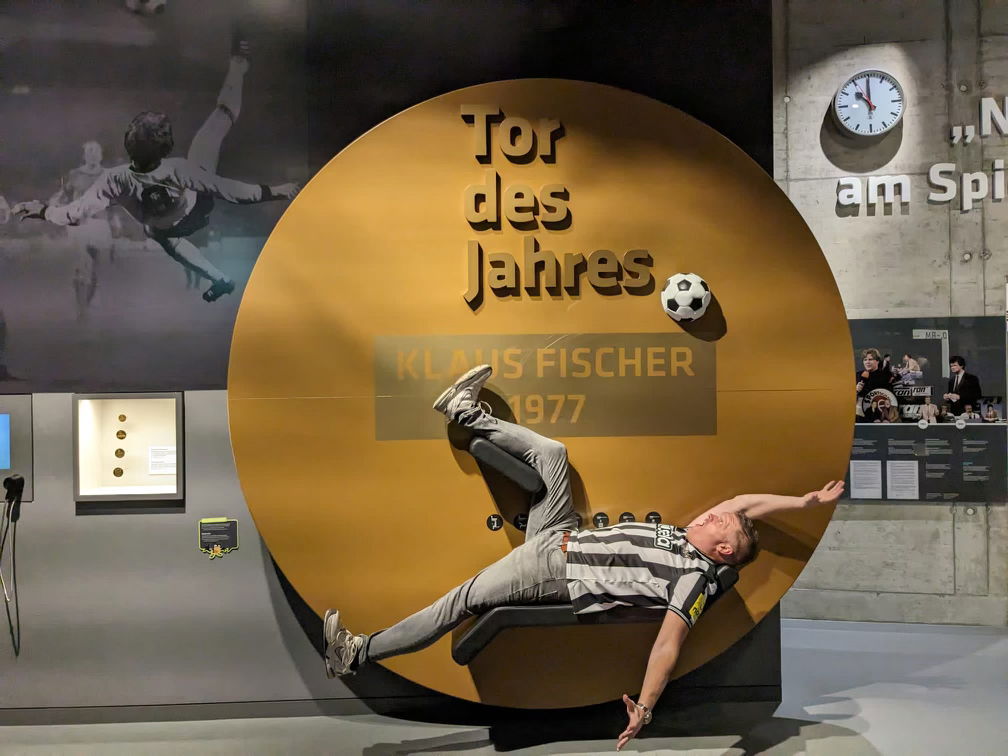 From here we went to the main square which was packed out with Geordies, with familiar tunes being belted out by a DJ and beer flowing from the many stalls, although you had to be careful because there was a football constantly flying about the place that saw a couple of unprepared people come a cropper.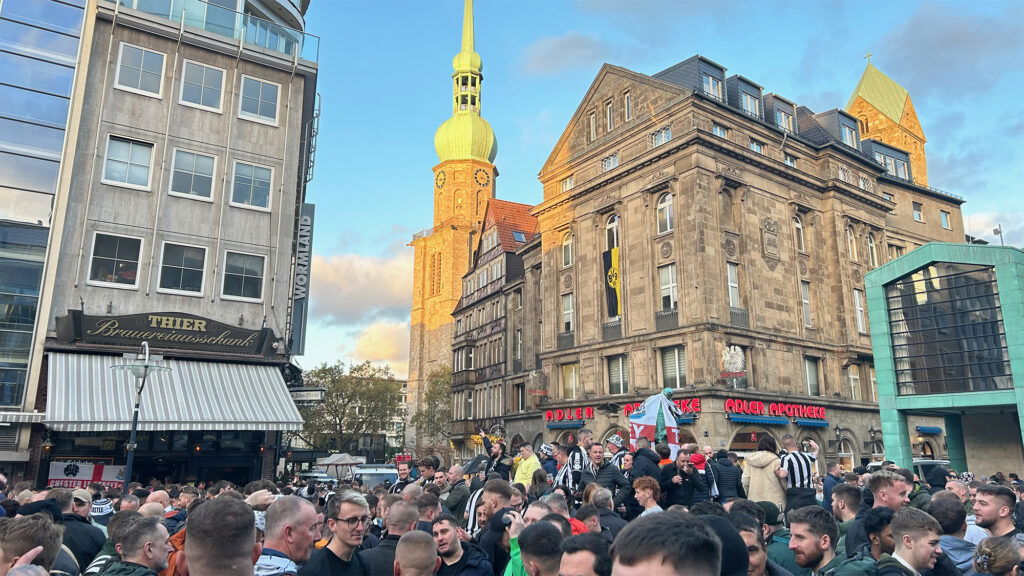 There were many familiar faces there, including Lee Clark, Ryan Taylor, Shola Ameobi, Dan Burn's dad and at one point Mehrdad Ghodoussi was spotted, preferring the company of the hoi polloi to flesh pressing at the stadium.
All of this was made easy by how fantastically welcoming and kind the people were, serving beer with typical German efficiency as Dortmund fans happily mingled amongst the visiting hordes. This continued through the claustrophobic U-bahn ride to the Signal Iduna Arena, and even into the ground, as the away end involved sharing concourses with home fans, buying beers you could take to your seat and drink while watching the match. My mate Martin was surely not the only one talking about moving here by this point.
The game started lively enough, as Joe Willock sped away in space down the left before being crowded out but Dortmund soon settled to have full control of the first half. United never seemed comfortable with the experimental line up and Nick Pope was called on twice to keep us in the game, parrying shots from Fullkrug and Adeyemi that were powerful but close enough to the keeper to allow the save. Pope managed to beat the shots out without them dropping for a tap in but United were living dangerously and the hammer blow came after 26 minutes. Again, Dortmund's speed on the counter attack flummoxed our defence, with Sabitzer crossing for Fullkrug to power home. Suddenly this looked like a very difficult job.
Despite being clearly second best, United had their chances, with Schar not able to find the power on a header from Trippier's cross, while Joelinton almost drew us level in the closing second of the half, with a close range header from Lascelles flick that Kobel did well to cling onto.
Gordon and Almiron did indeed appear for the second half, although the withdrawal of Wilson is always a concern. Our number nine hadn't been in the game first half, having been isolated without his usual wide men, but we can only hope that Eddie Howe reporting Wilson 'feeling a tight hamstring' proves to have been a precaution.
The visitors improved in the second half but Dortmund still had the early chances, with Pope called on for a couple of comfortable saves, before the golden chance to equalise came and, unfortunately, went. Tino Livramento, United's stand out player on his full Champions League debut, broke and sent a terrific cross over for Joelinton, who headed wide when he should have done better. The way Joe lay on the turf after the miss suggested he knew THE opportunity had gone, and with it, potentially our Champions League hopes.
Any hopes for the night were put to bed with the concession of an appalling second with ten minutes to go. Almiron was fouled leading to a promising free kick in what looked like a great position. United packed the box but Trippier's usually reliable delivery let him down horribly, failing to beat the first man and setting Dortmund away for the swift counter they clearly excel at. Livramento was caught two on one and couldn't close the marauding Brandt down, who ignored his lurking team mate and finished past Pope. Game over.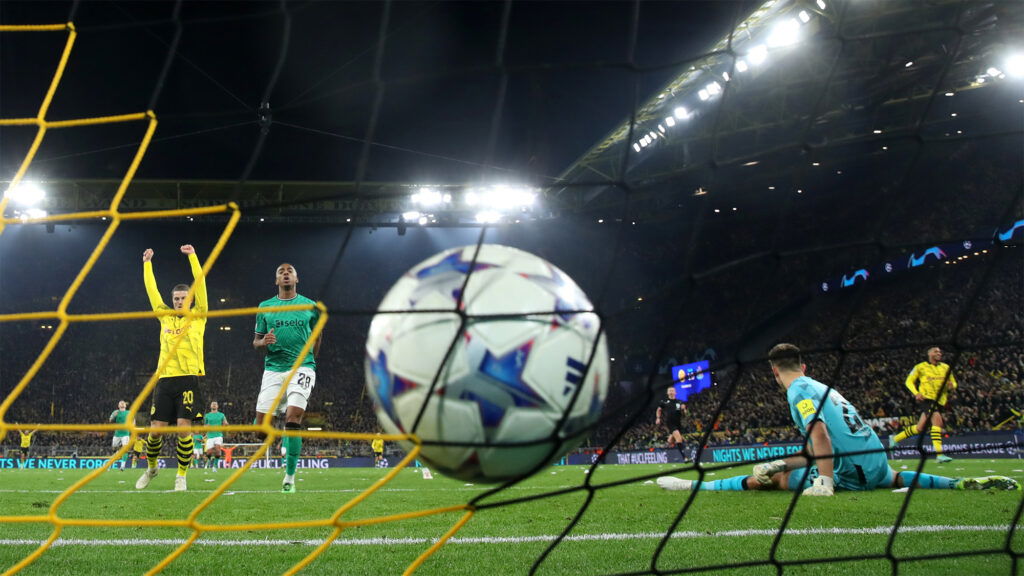 A clearly gutted United were warmly received by the travelling hordes but we now sit bottom of group F after Milan's win over PSG. Things are tight, with only two points between us and the qualifying places and wins in the remaining two games would guarantee getting us into the last 16.
However, that is a tall order. Winning in Paris is difficult enough but we all know what the main issue is right now. The injury situation has left the squad utterly bereft, with a bench tonight that featured two keepers and a handful of youth players. The short term hope has to be that the side has enough to deal with a poor Bournemouth side before the sweet relief of another international break that will hopeful see a bit of healing. Then we may be able to dream of the results that could deliver European football of some description in the new year.
As for the here and now, I am just grateful to everyone involved for delivering a scenario to give us such an awesome trip, to a great city full of top people and a bucket list stadium. One of the fine things about the current incarnation of Newcastle United is you can walk out of a ground like this and look forward to the day in the not too distant future, where you will return.
And return we will, back stronger before you know it. Up the Mags.
Stats via BBC Sport:
Borussia Dortmund 2 Newcastle 0 – Tuesday 7 November 5.45pm
Goals:
Newcastle United:
Borussia Dortmund:
Fullkrug 26, Brandt 79
Possession was Dortmund 46%  Newcastle 54%
Total shots were Dortmund 17 Newcastle 10
Shots on target were Dortmund 8 Newcastle 5
Corners were Dortmund 7 Newcastle 4
Referee: Alejandro José Hernández Hernández
Newcastle team v Borussia Dortmund:
Pope, Trippier, Lascelles, Schar, Hall (Almiron 45), Longstaff, Bruno, Joelinton, Livramento, Willock (Miley 81), Wilson (Gordon 45)
SUBS:
Dubravka, Karius, Dummett, De Bolle, Parkinson
(United missing a spine but not backbone – Borussia Dortmund 2 Newcastle 0 – Read HERE)
(Borussia Dortmund 2 Newcastle 0 – Match ratings and comments on all of the NUFC players – Read HERE)
(Borussia Dortmund 2 Newcastle 0 – Instant NUFC fan / writer reaction – Read HERE)
You can follow the author on Twitter @Mr_Dolf
Newcastle United confirmed matches to mid-January 2024:
Saturday 11 November 2023 – Bournemouth v Newcastle (5.30pm) Sky Sports
Saturday 25 November 2023 – Newcastle v Chelsea (3pm)
Tuesday 28 November 2023 – PSG v Newcastle (8pm) TNT Sports
Saturday 2 December 2023 – Newcastle United v Man U (8pm) TNT Sports
Thursday 7 December 2023 – Everton v Newcastle (7.30pm) Amazon
Sunday 10 December 2023 – Tottenham v Newcastle (4.30pm) Sky Sports
Wednesday 13 December 2023 – Newcastle v AC Milan (8pm) TNT Sports
Saturday 16 December 2023 – Newcastle v Fulham (3pm)
Tuesday 18 December 2023 – Chelsea v Newcastle (8pm) Sky Sports
Saturday 23 December 2023 – Luton v Newcastle (3pm)
Tuesday 26 December 2023 – Newcastle v Forest (12.30pm) Amazon
Monday 1 January 2024 – Liverpool v Newcastle (8pm) Sky Sports
(Weekend of Saturday 6 January 2024 – FA Cup third round matches)
Saturday 13 January 2024 – Newcastle v Man City (5.30pm) TNT Sports