Newcastle 1 Arsenal 0 conflict – This incredible silver bullet has now emerged to kill off controversy
It is now 12 days since that Newcastle 1 Arsenal 0 match at St James' Park.
Difficult to believe it was so long ago.
However, due to appalling way Arsenal and their fans have carried on since that game, it is something that still won't fade away.
A massive factor in this of course, is just how willing the London-centric media are to help keep the Newcastle 1 Arsenal 0 'controversy' alive.
You would almost think that the media massively dictate the agenda in terms of what does and doesn't end up as 'controversy' AND just how long it remains in the headlines.
Put it this way, if it was say Luton or Burnley who felt aggrieved about a decision, or decisions, in a particular match against random opposition, instead of Arsenal unhappy against Newcastle United, would anybody have been talking about it at all, never mind getting on for two weeks later?
Or how about if it had been Newcastle United unhappy about decisions in a match against Arsenal… what would have been the case then, in terms of the amount of headlines, how long the story would stay live, how keen the media would be to push the story / 'controversy'?
Now Arsenal fans have been keen to push a list of names who they claim have called the Newcastle 1 Arsenal 0 goal correctly, it is very amusing. That list headed up by Richard Keys and Andy Gray plus random people off YouTube, as well as Martin Keown and Ian Wright (I can't quite remember who they used to play for…).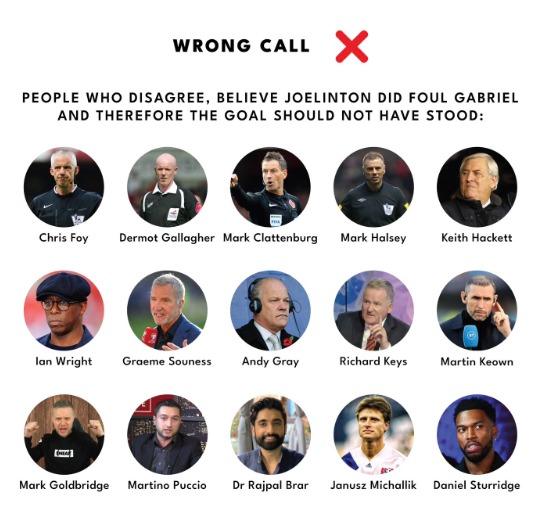 At the same time, the Arsenal fans keen to rubbish the countless others who say that the goal was correctly given in this Newcastle 1 Arsenal 0 match, or at the very least, VAR couldn't in any way have disallowed it after the referee Stuart Atwell gave it. This list including the likes of Gary Neville, Jamie Carragher, Howard Webb and other numerous former referees, as well as all five members of the independent panel appointed by the Premier League to look at key match incidents each round of PL matches.
Anyway, as you see above, amongst those the Arsenal fans are claiming as on their side, is Dermot Gallagher.
Arsenal and their embarrassing employees had all been refusing to say exactly why the Anthony Gordon goal should supposedly have been ruled out, instead relying on simply, oh it must have been at least one of the three things that were looked at. Now however, even the Arsenal fans are seemingly realising just how humiliating it is to still claim the ball was over the line when technology has since proved it wasn't, whilst countless credible people have also explained how it was impossible for VAR to call it offside.
So that leaves Joelinton challenging Gabriel, was it a foul?
Well, as I say above, Arsenal fans calling on Dermot Gallagher as one of the expert witnesses supposedly on their side of the argument.
Well this is what he actually said about that Joelinton / Gabriel challenge eight days ago.
Dermot Gallagher talking to Sky Sports about Newcastle 1 Arsenal 0 controversy:
'Gordon's goal vs Arsenal: Was Gabriel pushed by Joelinton?'
"That's the crux of the matter – it's a subjective decision.
"For me, I think it's a push. I've spoken to many who think it's not, I've spoken to many who think it is – the subjective decision is the dilemma.
"The referee said no, the VAR looked at it and thought it wasn't enough to overrule the referee, so that's where we're at.
"People say to me, if you'd have picked number two, the push, the other two would have gone away.
"That's great, but the referee didn't pick the push; he chose to say it was physical contact rather than a foul and the VAR backed him."
Well, I don't even think it is much of a backing for the Arsenal fans what Dermot Gallagher is saying. Yes, he says he thinks it was a push BUT says he has spoken to loads of other people who don't think it was a push. In other words, a subjective decision, just something that sometimes goes your way and sometimes doesn't. Plus, he makes clear that VAR could NOT have overruled the referee on the challenge.
Basically, VAR acted absolutely correctly and nothing out of order.
SILVER BULLET
Anyway, this though is where it all gets VERY interesting.
This incredible silver bullet has now emerged to kill off all controversy in this Newcastle 1 Arsenal 0 conflict.
Just imagine if almost exactly two years ago, these same two teams, Newcastle and Arsenal met.
Just imagine then if there was an at least equally controversial challenge / foul (the vast majority of neutrals would indeed say far far more clearly a foul than the supposed Joelinton one).
Just imagine then that this foul wasn't given either two years ago.
Just imagine then that Dermot Gallagher was also asked to rule on this controversial incident back in November 2021.
Just imagine that it was Stuart Attwell refereeing, the exact same referee as at St James' Park 12 days ago!!!
Just imagine though that two years ago, this massive decision went in favour of Arsenal and against Newcastle United…
The Mag – 29 November 2021:
Dermot Gallagher reviews controversial decisions in the Premier League after each round of games, on behalf of Sky Sports.
The former top referee has now given his call on this incident in the Arsenal v Newcastle match.
Dermot Gallagher looking at a key incident, when with the game still goalless, a Newcastle corner saw Fabian Schar seemingly dragged to the ground by Arsenal's Martin Odegaard.
The referee on the pitch didn't give a penalty and what was a very very swift VAR check didn't then flag up the incident to Stuart Attwell, the man with the whistle.
Dermot Gallagher talking to Sky Sports on whether it was a penalty when Fabian Schar appeared to be dragged to the ground by Martin Odegaard in the first half of Arsenal 2 Newcastle 0:
Dermot Gallagher:
"The player [Martin Odegaard] is not looking at the ball from a corner.
"What is he looking at?
"He is looking at the man [Fabian Schar], you know, that should raise alarm bells.
"I think that has got to be an on-field decision [whether or not to give a penalty].
"I think the referee, if he spots it, takes action [and gives a penalty]."
Sky Sports interviewer:
"But isn't that what VAR is there for?"
Dermot Gallagher:
"The VAR is not there to re-referee the game and it is not to judge the referee's decision.
"It is to decide, is it a clear and obvious error, falling within a tolerance level."
Sky Sports interviewer:
"Yes but if the referee hasn't spotted it, isn't that what it is there for?"
Dermot Gallagher:
"Well the referee may well have spotted it but felt it wasn't enough for him."
Sky Sports interviewer:
"But if the referee had spotted it, you are saying it should have been a penalty."
Dermot Gallagher:
"I think he [Martin Odegaard] is lucky."
This was Eddie Howe's first away game in charge at Newcastle United, we were deep in relegation trouble thanks to Mike Ashley and Steve Bruce, everything going against us, then this happened. Indeed, Newcastle had three penalty shouts at 0-0 in this game at Arsenal back in November 2021, with the Schar one the very most obvious, yet none of them given.
Can you imagine how Mikel Arteta and Arsenal would have reacted????
As well as the media, if that had been Arsenal the supposed victim?
Eddie Howe didn't do countless interviews crying on TV about how this was the biggest disgrace in football history.
Stuart Attwell in action booking Matt Ritchie back in November 2021
Newcastle United didn't release an official statement backing up their manager's embarrassing comments / claims (which to be fair would have been difficult, as Eddie Howe acted professionally and with integrity.
Not like the absolutely shameless Arteta.
I actually accidentally discovered that Stuart Attwell had refereed both matches and that Dermot Gallagher had reviewed such similar controversial incidents in both games, this was due to me looking for a YouTube clip of that incident where Schar should have got a penalty at 0-0 back in November 2021.
Do you know what though?
I couldn't find a single clip of it in any highlights of that Arsenal 2 Newcastle 0 match, which just sums up how much the media dictate the agenda of what makes headlines and most importantly, continues to make headlines.
Arsenal and their fans will be still crying about this Anthony Gordon goal for years to come.
I wouldn't be surprised if Arsenal end up having a yearly memorial service, commemorating the greatest travesty in the history of football that they have supposedly been a victim of.
The crying needs to stop. Arsenal and their fans have made themselves a laughing stock but they really need to dry their tears now.
They want everybody to believe it is some great conspiracy against them, so many biased against them, yet as the above proves, the same referee gave an almost exact same decision THEIR way two years earlier. I along with all other Newcastle fans were furious at the time that Stuart Attwell didn't give NUFC the decision BUT we didn't cry about it AND certainly didn't keep crying for weeks afterwards!