Mike Ashley left Newcastle United owners with desperate future situation – Green shoot now appearing
As we all know, an absolute mess left behind by Mike Ashley, for the new / current Newcastle United owners to inherit.
Mike Ashley, over a near decade and a half, refused to allow anything close to the minimum needed when it came to spending on the infrastructure, as well as of course 'staffing', whether that be on the playing side or business side of Newcastle United.
So that meant St James' Park, the first team training facility, as well as the younger age groups' facilities, all falling way behind what is needed.
Mike Ashley and minions such as Charnley, Llambias, Bruce and others, all wanted fans to believe that so long as you have some grass and cones, you aren't at any disadvantage to your rival clubs. Lee Charnley even embarrassingly claiming that there had never been a potential signing negatively influenced in his decision, by the way below par NUFC training facilities.
Numerous times, Mike Ashley, either directly or through one of his minions (Charnley, Llambias etc), would state that the Academy was the way in which Newcastle United could compete, bring local talent through etc etc, as well as the best young players from elsewhere.
Sadly / predictably, this was never ever backed up with proper investment in infrastructure / facilities and the overall coaching set-up.
This isn't about individual coaches or young players, when it comes to the situation the new / current Newcastle United owners inherited, it is a total failure from Mike Ashley to in any way allow the club to properly invest in its future.
It was always going to be a very long process for these new / current Newcastle United owners to build a proper professional top level set-up, to support the younger age groups.
However, just maybe, we are now seeing the first real green shoot, thanks to the belated much needed investment in coaching, facilities, scouting and bringing in the very best possible young players both locally and further afield.
As a reminder, this is how the Academy (Under 18s) league table (North) looked at the end of the 2022/23 season: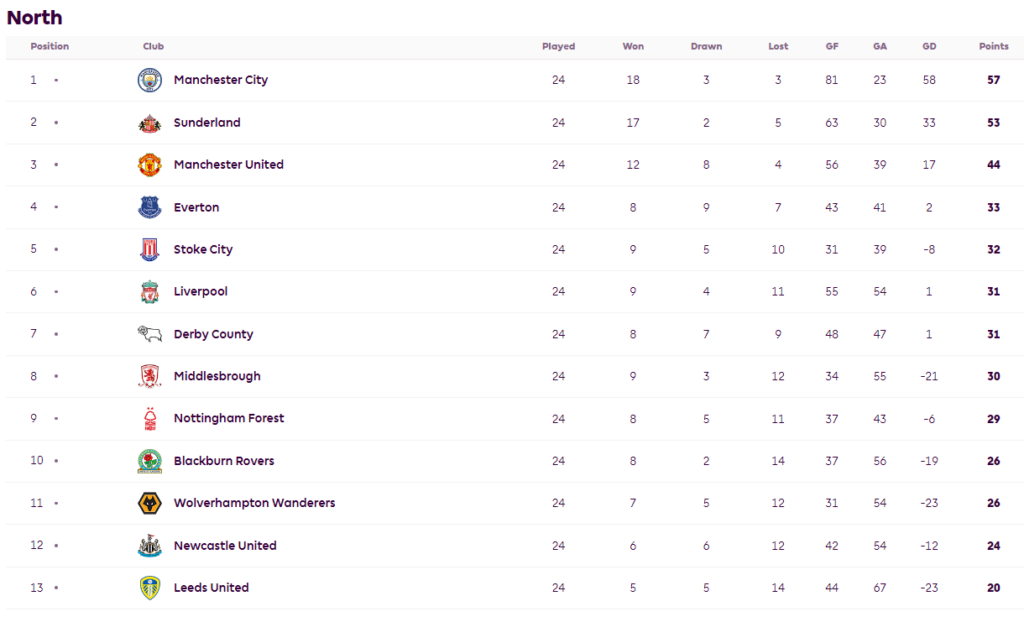 Painful viewing or what? Second bottom last season and things looking bleak. Only six wins in the entire league season!
If only a one-off then fair enough, but it had been struggle after struggle thanks to Mike Ashley, the previous season (2021/22) the Under 18s finished rock bottom of the table, five points adrift, conceding more goals than any other team and scoring less than all others.
When it comes to the Academy, the new Newcastle United owners, they were quite literally having to start off from rock bottom…
As I say though, maybe now we are seeing the first green shoot appearing at this younger age level.
On Saturday, the Newcastle United Under 18s had a big derby match against their Mackem counterparts.
The young United Under 18s set-up had lost their last four derby matches but not this time.
A 3-0 hammering handed out to the Mackem youth, lovely to see. Goals from NUFC's Sean Neave, Travis Hernes and Luke Craggs ensuring the home derby victory.
Saturday's victory followed up an excellent away win in their last Under 18s league match, a 2-1 win at Liverpool despite going a goal behind.
This leaving the Under 18s (North) league table now looking like this on Monday morning: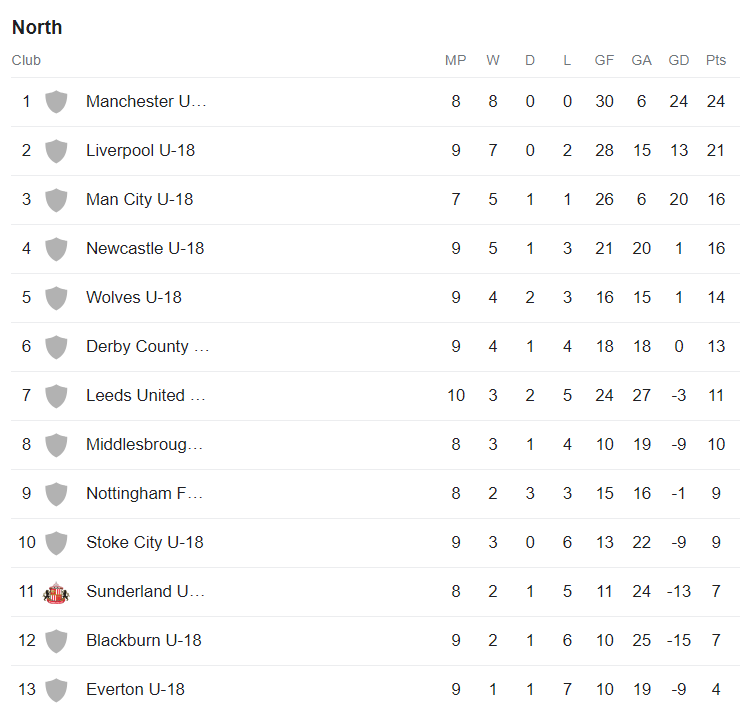 In 2022/23 there were only six league wins all season, with now only nine games played, the NUFC Under 18s already have five victories and are fourth top, only Liverpool and the Manchester clubs currently above them.
This is a very long and ongoing process BUT undeniable progress under the Newcastle United owners and Dan Ashworth heading up the massive turnaround needed.
Patience has to be shown and a massive shake up and upgrade will be increasingly put in place for the Academy, essential investment to repair the damage of 14+ years of Mike Ashley.
As I say above, no criticism meant of any individual who is now at the club. This is all down to Mike Ashley and how he dragged the entire club down over that near decade and a half.
This can't be sorted overnight, especially when you are talking about bringing kids / young players through, it is a situation where you put the right things / investment in place and then in the years ahead you potentially reap the benefits.
A bit of a miracle really that the likes of Sean Longstaff, Elliot Anderson and Lewis Miley have managed to come through DESPITE the Mike Ashley set-up and now prospering under Eddie Howe and the new Newcastle United owners.