Great news on AND for Fabian Schar after ruled out of Wednesday's match through injury
Fabian Schar was ruled out of Wednesday's matchday squad, with the Switzerland football federation confirming the news to Swiss media outlet Blick, 'The SFV confirmed Fabian Schär's absence from today's game against Israel in the Pancho Arena in Felcsut. After the high strain of the last few weeks, he is suffering from muscular problems.The Eastern Swiss player was on the field for 90 minutes in every Premier League and Champions League game for his club Newcastle. The central defender will do customized individual training in the hotel together with the Kondi trainer. Those players who are not in the starting line-up also complete training after the game – but in the stadium.'
The hope was that this was just a precaution, rather than a new serious worry for Eddie Howe. Especially with Sven Botman having his significant injury absence.
Saturday night brought double good news for Fabian Schar AND double good news for Eddie Howe.
The Newcastle United boss saw his central defender passed fit for Switzerland's match against Kosovo as he returned to the matchday squad and a bonus for Eddie Howe, Schar remaining an unused sub on the night.
As for Fabian Schar, his double good news was that he was passed fit for the match AND watched on as Switzerland booked their place in Germany next summer.
Switzerland took the lead on 47 minutes through Vargas, though only drew 1-1 when Kosovo managed an 82nd minute equaliser.
With Israel losing 2-1 to Romania, this is how European Championship qualifying Group  I now looks on Sunday morning: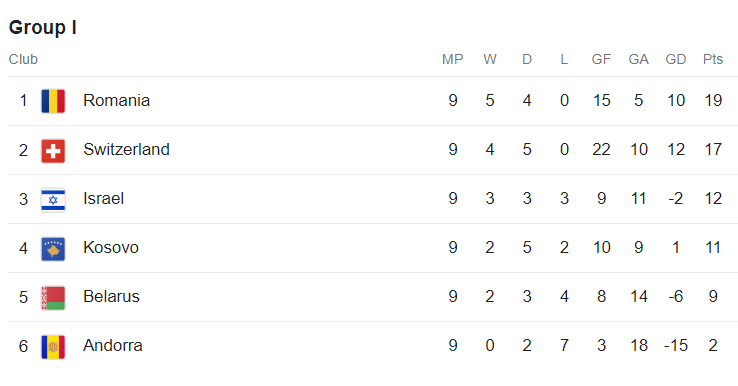 Switzerland have been unbeaten in all nine games and now just have Romania away to play on Tuesday, that result irrelevant now. Interesting to see whether Fabian Schar takes any part, I'm sure Eddie Howe will be happiest if he doesn't!
The Swiss are unbeaten in the group but not exactly doing it in style, drawing five of their last six qualifiers.
As for Sven Botman, also an excellent night for him.
He of course is injured and wasn't involved for Holland, but watched on from afar, as Holland won 1-0 against Republic of Ireland on Saturday. This books their place in Germany as well next summer, so an extra incentive for Sven Botman to get back to full fitness and playing for Newcastle.
Newcastle United players on international duty in November 2023:
Wednesday 15 November
Israel 1 Switzerland 1
Fabian Schar missing from the matchday squad for this Euro qualifier due to 'muscular problems', hopefully just a precaution
Thursday 16 November
Slovakia 4 Iceland 2
A brilliant night for Martin Dubravka.
Slovakia needed a point to guarantee qualification for Germany next summer and they did it in some style, hitting four goals.
Martin Dubravka picked up a yellow card and Iceland scored with their only two efforts on target in this Euro qualifier, however, the Newcastle keeper won't have been too concerned about that at the final whistle, as he celebrated reaching the Euro 2024 finals.
Azerbaijan 3 Sweden 0
Sweden already having no chance of qualification but nice to see Emil Krafth back playing for his country after more than a year's absence due to injury. The Newcastle defender introduced at 2-0 down in this Euro qualifier, playing the final half hour.
Colombia 2 Brazil 1
A disastrous night for Bruno Guimaraes and his international teammates, as Joelinton sat this one out as an unused sub.
All looked to be going according to plan as Martinelli gave Brazil a fourth minute lead, set up by Vinicius Junior.
However, two late goals in four minutes from Luis Diaz saw this World Cup qualifier turned on its head. Bruno Guimaraes playing ok but poor defending from the likes of Arsenal's Gabriel and Marquinhos of PSG handing victory to the home side.
England Elite League side (Under 20s) 0 Italy Under 20s 3
Lewis Hall started this latest England Elite Squad match.
The Newcastle United left sided player completing the whole match as the England youngsters lost 3-0 at home to Italy.
Friday 17 November
England 2 Malta 0
Kieran Trippier played the full match in this latest Euro qualifier, picking up his 46th England cap.
The Newcastle United defender one of the few to do himself justice against such woeful opposition.
Saturday 18 November
Switzerland 1 Kosovo 1
Fabian Schar passed fit to return to the Switzerland matchday squad and watched on as his teammates drew this Euro qualifier.
However, with Israel losing to Romania, it has now meant Switzerland guaranteed to be in Germany next summer, with a game still to be played on Tuesday in this group, away to Romania.
Sunday 19 November
Bosnia and Herzegovina v Slovakia (Martin Dubravka) Euro qualifier
Sweden v Estonia (Emil Krafth) Euro qualifier
Monday 20 November
North Macedonia v England (Kieran Trippier) Euro qualifier
Germany U20s v England U20s (Lewis Hall)  Friendly
Tuesday 21 November
Romania v Switzerland (Fabian Schar) Euro qualifier
England U21s v Northern Ireland U21s (Tino Livramento)  U21s Euro qualifier
Wednesday 22 November
Brazil v Argentina (Bruno and Joelinton) World Cup qualifier