Eddie Howe shows his class as always representing Newcastle United – Unlike Mikel Arteta and Arsenal
Eddie Howe is a class act.
I know that you already know this BUT it is worth reminding ourselves.
Having suffered so many Newcastle United managers who had no class about them (you know who I mean…), Eddie Howe is in the same collective as the likes of Kevin Keegan, Sir Bobby Robson, Rafa Benitez and Chris Hughton, in terms of how he conducts himself when representing Newcastle United.
Nice to get outside reminders as well, Mikel Arteta for example…
I knew he was an embarrassment but after Saturday's antics, he has now proved himself to be Jurgen Klopp level.
Just look in comparison how measured Eddie Howe is, when talking about the key incidents in the match. Imagine how Mikel Arteta would have gone on if one of his players had been subjected to that kind of cowardly cynical assault from Kai Havertz on Sean Longstaff, where he clearly was trying to seriously injure another player and yet somehow only received a yellow card!
This was the only truly embarrassing decision in the match from the referee and VAR.
Eddie Howe reflecting on Newcastle 1 Arsenal 0:
Eddie Howe on the winning goal:
"We are in the dark, we are stood by the side of the pitch seeing VAR on the screen but with no pictures.
"I haven't seen anything other than what I saw at the time.
"It looked a good goal to me.
"With every VAR check that was going on, we thought one would cost us in the end.
"Initially I thought it was a good goal but I saw hesitation from the referee.
"Obviously pleased the goal was given, a good goal from our perspective."
Eddie Howe on the Kai Havertz assault / challenge on Sean Longstaff:
"I thought that there were too many yellow cards in the game.
"I don't think the discipline in the game was a problem until the tackle from Havertz.
"I was close to it and had a good view and thought it was dangerously high."
Eddie Howe on the win overall:
"It was a real battle between two teams who are normally a lot more fluid than that.
"Both teams knew we had to fight to win.
"It wasn't a game of beauty.
"It was lot of aerial balls, which was a a marker of how hard the game was.
"Thankfully, we came out on top."
Eddie Howe on injuries… and more injuries:
"The circumstance around the match… we are suffering a bit of bad luck [with injuries] at the moment.
"We are losing players, but the response of the players we do have fit and available, has been incredible.
"You can see the spirit at the end, the determination to hold on, the collective effort was superb.
"That [picking up more injuries] is the concern, a negative point from today.
"It looks like we have lost Dan Burn and we knew we were taking a risk with Jacob Murphy – but now he will have surgery on his shoulder.
"It shows though that we have got very good players still fit and available.
"We won't feel sorry for ourselves.
"A big week for us, still two fixtures before the international break.
"A big three points for us.
"A brilliant battling performance from the players who gave absolutely everything under fatigue and they deserve all the praise.
"It was a tough game.
"It was a massive win.
"Maybe not the game we expected it to be in terms of style from both teams. The midfield battle was important, we had to try and stay in the game in that way.
"Joelinton was huge and all three midfielders really helped us.
"When you don't concede you are always in a game.
"It wasn't the game we prepared for but you have to show different sides of your game to win and I think we have that in the group at the moment."
Eddie Howe on Anthony Gordon:
"He has got used to what is expected of him.
"He had sight of it at the end of last season and he came back fitter from the [Under 21] Euros which was successful for him.
"That helped his confidence and he has been brilliant for us this season.
"And he has shown versatility."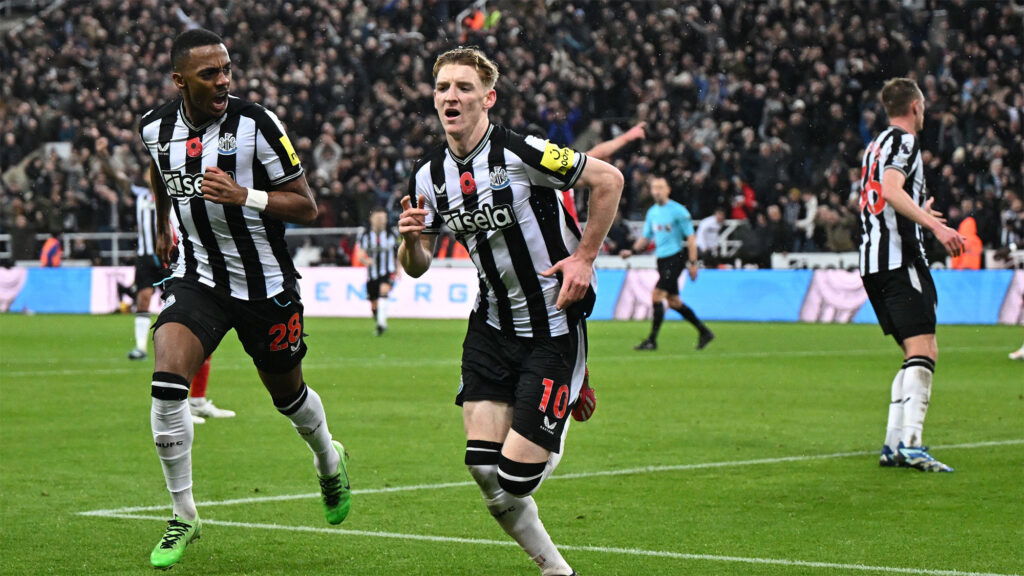 Eddie Howe on half-time sub Tino Livramento:
"He did very well.
"It wasn't an easy game to come into.
"Very transitional in that moment and he was up against a very good opponent in Martinelli, who was very dangerous, he stuck to his task defensively really well."
Stats via BBC Sport:
Newcastle 1 Arsenal 0 – Saturday 4 November 5.30pm
Goals:
Newcastle United:
Gordon 64
 Arsenal:
Possession was Arsenal 60%  Newcastle 40%
Total shots were Arsenal 14 Newcastle 9
Shots on target were Arsenal 1 Newcastle 2
Corners Arsenal 11 Newcastle 0
Referee: Stuart Attwell
Attendance:  52,194 (3,000 Arsenal)
Newcastle team v Arsenal:
Pope, Trippier, Lascelles, Schar, Burn (Livramento 45), Longstaff, Bruno, Joelinton, Almiron (Murphy 63 (Ritchie 79)), Wilson (Willock 62), Gordon
SUBS:
Dubravka, Dummett, Krafth, Hall, Lewis Miley
(Arsenal are an excellent side but… Newcastle United proved they are too – Read HERE)
(Newcastle 1 Arsenal 0 – Match ratings and comments on all of the NUFC players – Read HERE)
(Mikel Arteta crying after Newcastle 1 Arsenal 0 – Just drink those tears – Read HERE)
(Newcastle 1 Arsenal 0 – Instant NUFC fan / writer reaction – Read HERE)
(Newcastle 1 Arsenal 0 – United are absolutely back… brilliant! Read HERE)
(David Raya with delusional comments after Newcastle 1 Arsenal 0 – Read HERE)