Covid impact claims – Newcastle United figures and the rest of the Premier League, including Everton…
We all felt the Covid impact.
When it came to finances, so many people negatively affected.
Football clubs were no different.
Indeed, Premier League clubs were keen to say that the Covid impact could be the end of them, as they tried to get the maximum leeway and allowances made, when it came to their finances.
The fact that since the Covid impact we have seen Premier League spending on players go way beyond the levels of had happened previously… suggests that the longer-term damage / impact might have been 'slightly' exaggerated.
Speaking of exaggeration… interesting to look at what was the case of Premier League clubs when it came to Covid impact and FFP….
Basically, it was recognised that of course football clubs, amongst any sporting clubs and institutions, had suffered financially during the Covid period. No supporters allowed in stadiums maybe the most obvious of revenue streams that were damaged, although of course also other ways in which Covid affected cash coming in.
FFP says Premier League clubs can only lose a certain figure over any three year period and so clubs would be allowed larger losses in this period, if they could show how much extra losses were due to Covid impact.
This is a table prepared by football finance expert Swiss Ramble, it shows what the various Premier League clubs claimed to have been the Covid impact they suffered financially, you might notice that one of these clubs stands out just a 'little' bit…
(Swiss Ramble explanation – "Note: some of these figures for different clubs have been estimated, but most of them have been taken from club accounts.")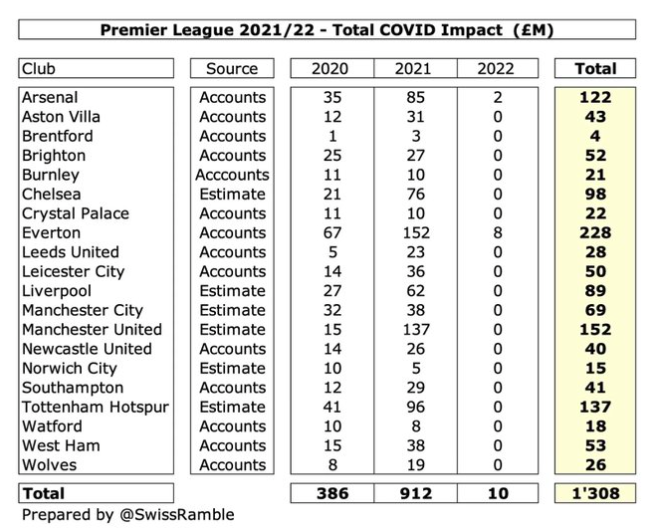 A couple of other Premier League clubs also appear keen to claim way beyond the rest.
However… as you can see, Everton were / are beyond shameless.
So the Newcastle United accounts showing £40m losses were down to Covid impact, Everton in their official accounts claiming £228m!!!
There were countless other questionable moves and claims by Everton as they tried to escape FFP punishment BUT these claimed Covid impact losses were perhaps the most incredible / incredulous.
Swiss Ramble commenting on what has now happened with Everton and their 10 points deduction for breaches of FFP rules:
"So Everton have been deducted 10 points by the Premier League for a breach of the Profitability & Sustainability Rules.
I have frequently looked at their case, the last time during an overall review of FFP."
"So it was not a great surprise that Everton were referred to an independent commission for an alleged breach of FFP rules.
Whether the punishment is fair and proportionate is another question."
Well, many people think the punishment is far too lenient for Everton, especially those clubs who believe they may not have been relegated if Everton hadn't broken the rules.