Arsenal are an excellent side but… Newcastle United proved they are too
Arsenal are an excellent side. Don't let anyone tell you otherwise.
There's a reason they ran Man City so close last season and why they are up there again this time out. There's a reason they came to St James' Park unbeaten in the first ten matches of the Premier League season.
They have players like Saka, Saliba, Rice and Martinelli who would get into most teams in the world.
Newcastle United are a quality side too though and both teams cancelled each other out in the first half. Neither really created any good chances, but Arsenal looked marginally better on the ball. We had a lot of stray passes as Arsenal hounded us and tried to play us at our own game.
We had a prelude into how bad the officiating was going to be when Joelinton landed awkwardly after a 50/50 and had to wait for '30' seconds before coming back on. I tallied 52 seconds between him being told to wait and the referee waving back on. You could see him remonstrating and I half expected him to tackle the Arsenal player that came close to him on that side.
Wilson blasted a shot over from close range but it was offside anyway due to Burn straying earlier in the move.
It took a spicy challenge from Havertz to really kick things into life. Should it have been a red? Both feet were off the ground. His only saving grace was that it wasn't his leading foot that made the main contact, but it could have and, therefore, it surely should have been a red.
He didn't pull out of the challenge in any way. It was full blooded and it was a matter of less than a second that avoided Longstaff getting studs in the ankle. Had that happened, Havertz would have walked so what difference is it that he failed to injure our player. How that moment ended up with three of our players getting carded was something else.
It certainly fired up the crowd and the players.
Almiron had a couple of runs down the right wing. One of which created a crossing chance for Trippier. He delivered a good ball, but Lascelles couldn't get a good connection and his touch made it hard for Gordon to control or hit first time. Would have been a good opportunity had he sorted his feet out in time.
Bruno had a shot that dragged wide from outside the box. Soon after he could have been in trouble after an… innocuous… forearm to the head of Jorginho. There wasn't much force in it but it could have been interpreted as malicious. Maybe VAR let him off after realising what a howler they had made with their earlier decision. Bruno was later booting the ball at Havertz from a free-kick and then exchanging shoves with Rice. Not sure whether the Brazilian was trying to get Havertz sent off for blocking a free-kick or just wanted to lash out at him, but it was silly. The Arsenal player was facing the opposite way and the ball was moving when Bruno struck it, so he was never going to get a second yellow.
Half-time couldn't come quickly enough as the tensions were boiling right over.
Dan Burn had spent a portion of the first half holding his back after an awkward fall and was replaced by Tino Livramento.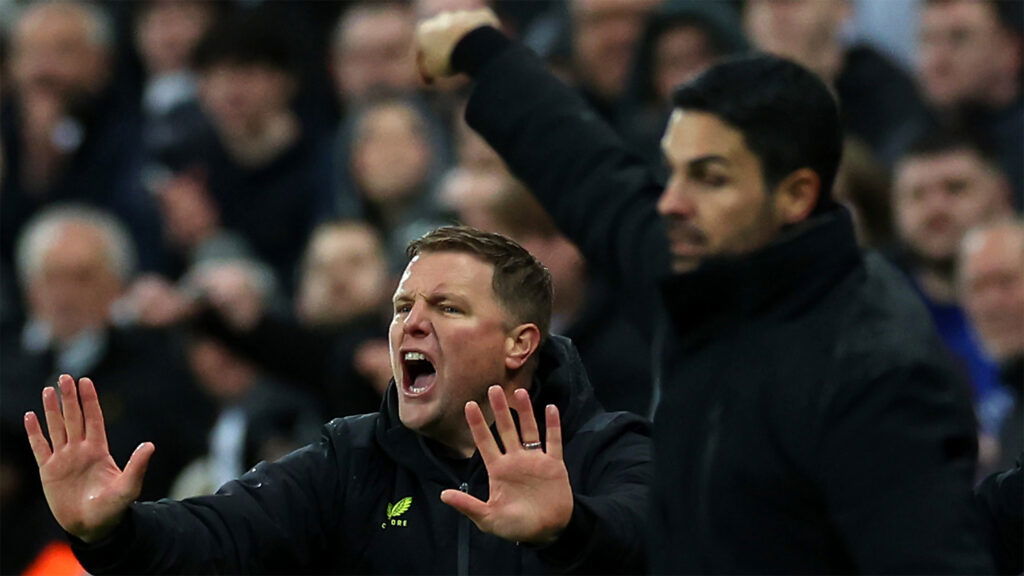 If Howe and Arteta had tried to sooth their players at the break, it hadn't worked. Havertz dived in with an early challenge on Wilson which the referee let go. Bruno shoved Jorginho to the floor and then gestured at him to get up. Joelinton almost sent Havertz into the crowd at one point and Wilson dragged Gabriel to the floor during a tussle. There is real needle between us and Arsenal these days and it was showing in this fixture.
We had an excellent chance when a ball to Wilson was well held up. Wilson pushed back and back against Gabriel until both fell to the ground and Almiron took over. Miggy surged forward and laid the ball off for Gordon on the edge of the box. Gordon took a couple of touches but appeared to run out of steam. His shot was weak and easily blocked by White. It just needed a cutback onto the right foot for me. That would have left White floundering and given Gordon a better angle.
The second half was proving as cagey as the first and chances were at a premium.
A double substitution saw Miggy and Wilson replaced by Murphy and Willock.
The subs would play a massive part in what came next. A powerful run from Joelinton fed Murphy whose shot dragged well wide. Willock didn't give up and scurried after it, managing to just keep it in play. He crossed the ball which looped over Raya and with Joelinton and Gabriel battling for it, the ball fell to the feet of Gordon a few yards out, who hoofed it into the net.
Bedlam ensured as fans and players went wild in unison but VAR was determined to spoil the party.
They checked everything possible.
Was the ball out of play?
Did Joelinton foul Gabriel?
Was it offside?
Once they'd finished flicking through every page in the rulebook, Stockley Park (not quite the technological equivalent of Bletchley Park) said that there wasn't conclusive evidence to disallow the goal.
The one that was iffy for me was whether the ball was in or not. The correct call was made as nobody could say categorically if it was in or out and, in that scenario, they have to stick with the original decision. If I had seen the still image of the ball at the line, for a goal against us, I'm sure I'd be adamant it was out, but that's football.
The foul was never a foul. The offside again was impossible to really call. It wasn't even just a case of not being able to tell when the ball hit Joelinton, to determine if there had been two players between Gordon and the goal as Raya had come flapping out. I think it's also hard to tell whether the last touch of Joelinton isn't actually putting the ball sideways or backwards. It has to be a forward ball for Gordon to be offside and a big deflection off of Gabriel meant the ball did go backwards. But there is also a last touch that you can see on one of the angles off Joelinton's thigh before it hits Gabriel's leg and I think it's impossible to judge whether that touch, his final and therefore only important touch, is actually putting the ball forwards or not.
Anyway, the goal was given. VAR took four minutes over it. The pundits in the studio took even longer and I've babbled on about it for several sentences too. It's an impossible one to categorically call either way and therefore the on-field decision had to, and did, stand.
Murphy's entrance had a big part in the outcome of this game but unfortunately his return to the team appeared to come too soon. Racing onto a long ball, Murphy felt the shoulder go again and had to come off. You could see how heavily patched up he was later.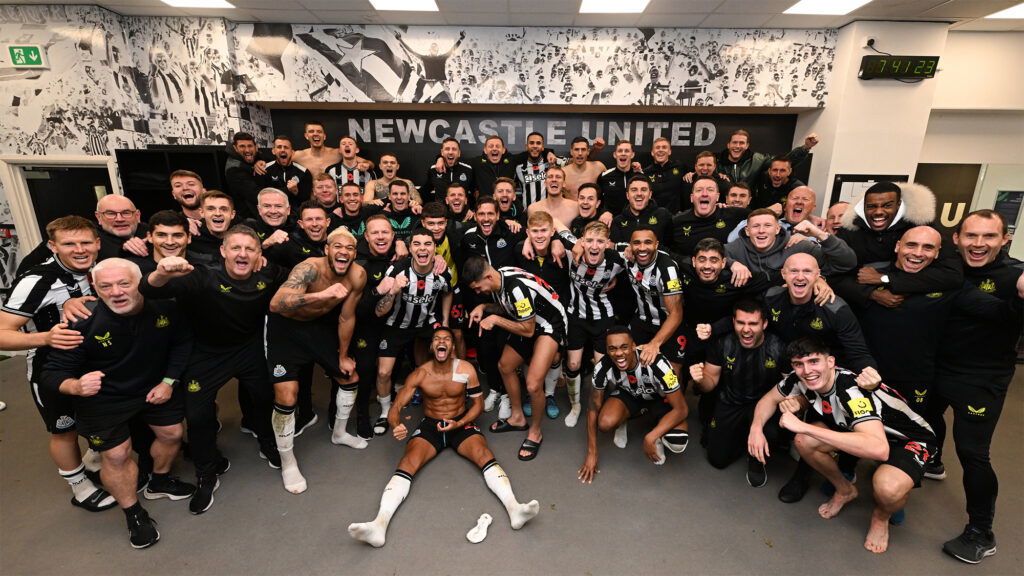 The last fifteen minutes plus stoppage time was very much attack versus defence but our back four were magnificent. Livramento neutralised Martinelli, time after time. Lascelles, Schar and Trippier won every single challenge as balls were launched into the box. I can't give Lascelles enough credit for the way he has come back into the team and is possibly playing his best ever football. He was a rock today and such a powerful presence when the pressure was on at the end.
Our two Brazilians covered every inch in the middle, hassling and battling for every yard. Bruno finally got the long overdue booking in completely unnecessary circumstances but he and Joelinton did not stop.
The roar as Joelinton made a late tackle at the nearside and pumped his fists to the crowd was matched seconds later as the final whistle was blown.
A massive victory. Our third consecutive clean sheet at home in the Premier League (our fourth in domestic competitions). Back into the top six and tickling the Champions League places once more.
Stats via BBC Sport:
Newcastle 1 Arsenal 0 – Saturday 4 November 5.30pm
Goals:
Newcastle United:
Gordon 64
 Arsenal:
Possession was Arsenal 60%  Newcastle 40%
Total shots were Arsenal 14 Newcastle 9
Shots on target were Arsenal 1 Newcastle 2
Corners Arsenal 11 Newcastle 0
Referee: Stuart Attwell
Attendance:  52,194 (3,000 Arsenal)
Newcastle team v Arsenal:
Pope, Trippier, Lascelles, Schar, Burn (Livramento 45), Longstaff, Bruno, Joelinton, Almiron (Murphy 63 (Ritchie 79)), Wilson (Willock 62), Gordon
SUBS:
Dubravka, Dummett, Krafth, Hall, Lewis Miley
(Newcastle 1 Arsenal 0 – Match ratings and comments on all of the NUFC players – Read HERE)
(Mikel Arteta crying after Newcastle 1 Arsenal 0 – Just drink those tears – Read HERE)
(Newcastle 1 Arsenal 0 – Instant NUFC fan / writer reaction – Read HERE)
(Newcastle 1 Arsenal 0 – United are absolutely back… brilliant! Read HERE)
(David Raya with delusional comments after Newcastle 1 Arsenal 0 – Read HERE)
You can follow the author on Twitter @billymerlin