Another monkey off our back
What a night!
Finally, we go to Old Trafford and come away with a win. Our first since that Yohan Cabaye winner in 2013, when we donned the Brazillian looking away kit, and how good did that feel.
The away end was pumping, as expected when over 7,000 fans travelled.
I found it particularly funny at the end when not just a few, but quite a lot of home fans, were stood taking videos of us all showing our appreciation to the lads.
Another great gesture from Tripps at the end when he nudged Tino forward to take his very well deserved applause… Tino! Tino!
OLD TRAFFORD IS FALLING DOWN
TEN HAG IS A FCKN CLOWN
GLAZERS STAYING TEN MORE YEARS
GEORDIE BOYS ARE ON THE BEERS
So, another monkey off our back as we continue to evolve under the guidance of someone who is writing himself into the history books of Newcastle United.
Controversial in some eyes but I have not felt this good about our team since KK. Now don't get me wrong, I loved Sir Bobby as much as the next fan, but this team spirit seems to be unparalleled since the days of the Entertainers.
When the team sheet was made public, I honestly did not have any doubts.
Complete faith in Eddie Howe and I simply love the fact that he will put his complete belief in Emil Krafth and Paul Dummett and stick them at the heart of our defence, in a competition that is very winnable. Emil Krafth by the way, get in lad!
As per usual, we get no credit whatsoever.
Instead, having to listen to the same regurgitated comments about the opposition and how they were dreadful. Time and time again.
I'm yet to hear one pundit in the media turn around and say: "Well actually, Newcastle were so good that it forces the opposition to be rubbish."
The other player I'd like to mention is Martin Dubravka, who was excellent. Our keeper who wears the Number 1 jersey might just deserve a place in between the sticks on that performance.
His playing out from the back was great last night and very welcome, having had my heart in my mouth on numerous occasions over the last few games.
Kudos Dubravka! Many around me last night were also saying they would like to see him given a run of games. However, in Eddie we trust, and I am not one of these social media football experts who professes to be more knowledgeable than Eddie and his team.
On now to Saturday, for a traditional absurd kick-off time. Bring on Arsenal and what a test to once again exam the development and how we are learning from our experiences going forward.
Am I going into Saturday expecting a win? No!
However, do I think we will win? Yes!
I also firmly believe we are capable of competing with cry baby Arteta's Arsenal to the end of season. Man City are on another level in my opinion, but I fear no one, and what is becoming more obvious, neither does this Newcastle team.
For those who listen to Talksh.te, Stuart Pearce tipped us to win the league at the beginning of the season.
Now, I don't think we will, however, could this actually be the year that we do bring a trophy back to St James'? Ever the optimist, I reckon we will!
Eddie Howe's Black and White Army!
To finish:
HE CAME FROM ARSENAL
COS' HE WANTED A CHANCE
TO JOIN THE MAGPIES
AND MAKE THE GEORDIE'S DANCE
HE'S FCKN MAGIC
AND DON'T YOU FCKN KNOW
OUR MIDFIELD MAESTRO
JOE WILLOCKINHO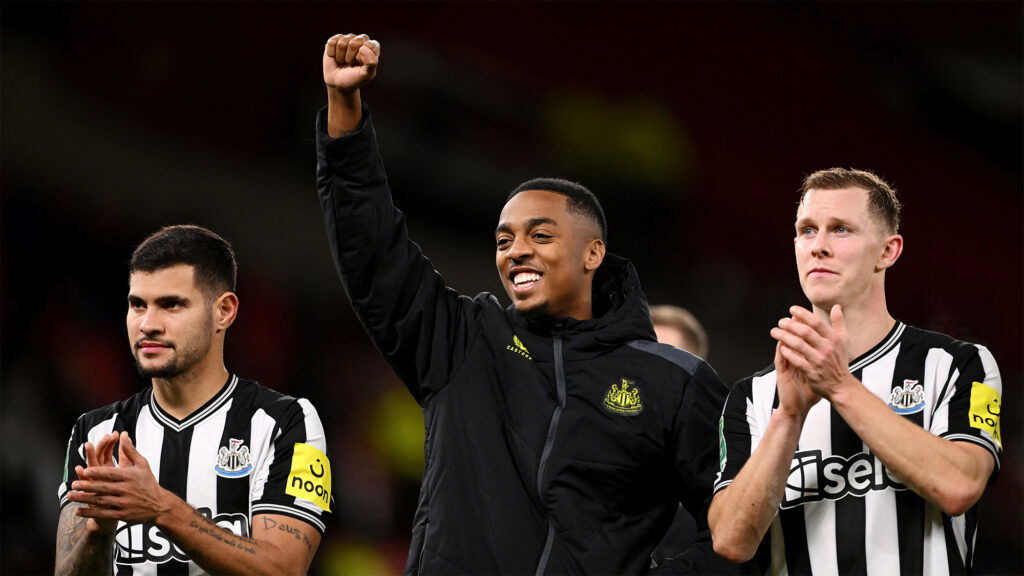 Stats via BBC Sport:
Manchester United 0 Newcastle United 3 – Wednesday 1 November 8.15pm
Goals:
Newcastle United:
Almiron 28, Hall 36, Willock 60
 Man U:
Possession was Man U 62%  Newcastle 38%
Total shots were Man U 13 Newcastle 10
Shots on target were Man U 2 Newcastle 5
Corners Man U 5 Newcastle 2
Referee: Robert Jones
Attendance: 72,484 (NUFC 7,300)
Newcastle team v Wolves:
Dubravka, Livramento, Krafth, Dummett, Targett (Almiron 5), Hall (Burn 74), Longstaff, Willock (Bruno 64), Ritchie (Trippier 75), Joelinton, Gordon (Wilson 64)
SUBS:
Karius, Lascelles, Diallo, Parkinson
(Manchester United 0 Newcastle United 3 – Instant NUFC fan / writer reaction – Read HERE)
(Manchester United humiliated! Newcastle United brilliant! There's only one United… Read HERE)
(Newcastle United get Chelsea – Carabao Cup quarter-final draw – Read HERE)
Newcastle United upcoming matches:
Saturday 4 November 2023 – Newcastle v Arsenal (5.30pm) Sky Sports
Tuesday 7 November 2023 – Borussia Dortmund v Newcastle (5.45pm) TNT Sports
Saturday 11 November 2023 – Bournemouth v Newcastle (5.30pm) Sky Sports
Saturday 25 November 2023 – Newcastle v Chelsea (3pm)
Tuesday 28 November 2023 – PSG v Newcastle (8pm) TNT Sports
Saturday 2 December 2023 – Newcastle United v Man U (8pm) TNT Sports
Thursday 7 December 2023 – Everton v Newcastle (7.30pm) Amazon
Sunday 10 December 2023 – Tottenham v Newcastle (4.30pm) Sky Sports
Wednesday 13 December 2023 – Newcastle v AC Milan (8pm) TNT Sports
Saturday 16 December 2023 – Newcastle v Fulham (3pm)
Tuesday 19 December 2023 – Chelsea v Newcastle (8pm) Sky Sports
Saturday 23 December 2023 – Luton v Newcastle (3pm)
Tuesday 26 December 2023 – Newcastle v Forest (12.30pm) Amazon
Monday 1 January 2024 – Liverpool v Newcastle (8pm) Sky Sports
(Weekend of Saturday 6 January 2024 – FA Cup third round matches)
Saturday 13 January 2024 – Newcastle v Man City (5.30pm) TNT Sports