Updated Premier League form table on Monday morning – Well worth a look
This (see below) is how the Premier League form table now looks ahead of the next match.
Newcastle United having drawn at Molineux.
I know we were all disappointed that United led twice on Saturday but only ended up with a point, but this was a tough match against an in-form Wolves side who had won against Man City in their most recent home game.
Here is the updated Premier League form table, which covers the past six matches for all teams: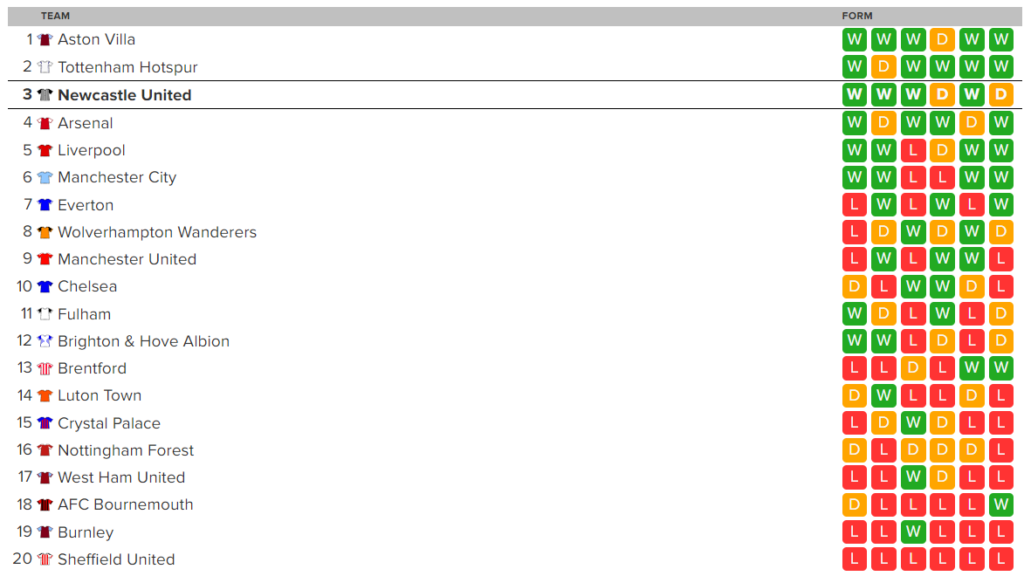 The last six results for Newcastle United with very latest one listed first:
Wolves 2 Newcastle 2
West Ham 2 Newcastle 2
Newcastle 2 Burnley 0
Sheffield Utd 0 Newcastle 8
Newcastle 1 Brentford 0
Then the same for Arsenal and their last six PL matches:
Arsenal 5 Sheffield United 0
Chelsea 2 Arsenal 2
Arsenal 1 Man City 0
Bournemouth 0 Arsenal 4
Arsenal 2 Tottenham 2
Everton 0 Arsenal 1
As you can see, Newcastle United now third in this newly updated Premier League form table. NUFC with fourteen points from four wins, two draws and no defeats. Nineteen goals scored and four conceded.
Whilst Arsenal are fourth in the form table, with also fourteen points. Four wins, two draws and no defeats, fifteen goals scored and four conceded.
So as you are reminded above, Newcastle United in great shape as this Premier League form table proves, third place as things stand.
This is how the Premier League table currently now looks on Monday 30 October 2023: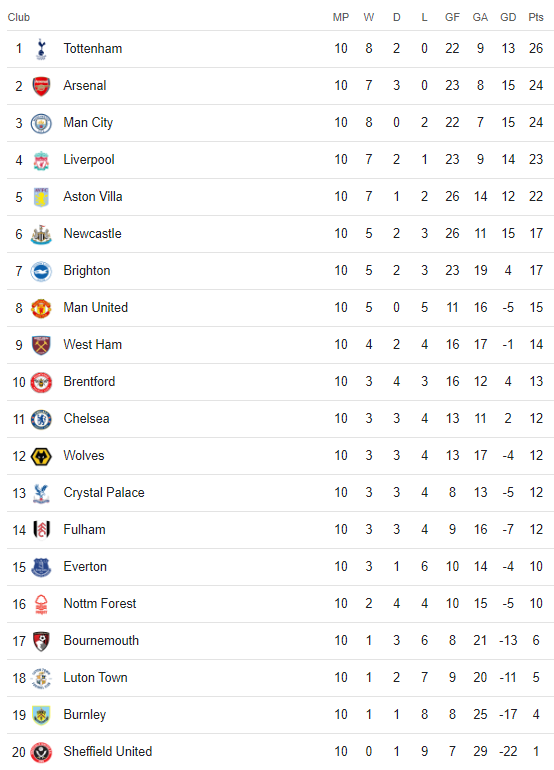 Nobody would pretend Saturday isn't a really tough match and playing Arsenal is difficult even with a full squad to choose from, never mind the numerous players Eddie Howe has missing.
However, a massive opportunity to move within four points of Arsenal who are currently second in the full Premier League table.