TNT Sports embarrassing Newcastle United v PSG blunder – Needs fixing for Borussia Dortmund
Fair to say that the very first TNT Sports visit to cover a Newcastle United home Champions League match, will live long in the memory.
The broadcaster getting so many benefits from a remarkable night.
Indeed, so many highlights for TNT Sports before, during and after the 4-1 thrashing of PSG.
However, along with all the positives of what TNT Sports beamed out, there was one significant blunder pre-match.
With TNT Sports  / Discovery promoting this massive match as…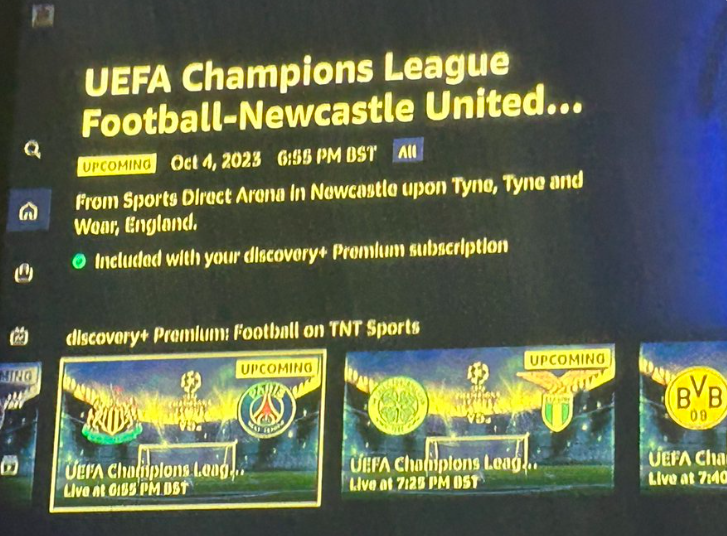 Dear TNT Sports,
Can you fix this for me, before Borussia Dortmund arrive at ST. JAMES' PARK.
While you're on, no need to mention WEAR either, just leave it at Newcastle Upon Tyne, thank you very much.
Yours gratefully
Newcastle United fans
Newcastle United – Champions League Group matches:
Matchday 1: AC Milan 0 Newcastle United 0 – 19th September, 5.45pm
Matchday 2: Newcastle United 4 Paris Saint-Germain 1 – 4th October, 8pm
Matchday 3: Newcastle United v Borussia Dortmund – 25th October, 8pm
Matchday 4: Borussia Dortmund v Newcastle United – 7th November, 5.45pm
Matchday 5: Paris Saint-Germain v Newcastle United – 28th November, 8pm
Matchday 6: Newcastle United v AC Milan – 13th December, 8pm
Stats from BBC Sport:
Newcastle 4 PSG 1 – Wednesday 4 October 8pm
Goals:
Newcastle United:
Almiron 17, Burn 39, Longstaff 50, Schar 90+1
PSG:
Hernandez 56
(Half-time stats in brackets)
Possession was PSG 73% (69%)  Newcastle 27% (31%)
Total shots were PSG 11 (4) Newcastle 12 (8)
Shots on target were PSG 2 (0) Newcastle 8 (4)
Corners were PSG 8 (4) Newcastle 1 (1)
Newcastle United:
Pope, Trippier, Lascelles, Schar, Burn, Longstaff, Bruno, Tonali (Anderson 65), Almiron (Murphy 71), Isak, Gordon (Targett 90+3)
UNUSED SUBS:
Dubravka, Karius, Dummett, Hall, Livramento, L.Miley
(A thing of beauty is a joy forever – Now, bring on the Germans! Read HERE)
(Newcastle 4 PSG 1 – Instant NUFC fan / writer reaction – Read HERE)
(Newcastle 4 PSG 1 – Champions League, we're having a laugh! Read HERE)
(Newcastle 4 PSG 1 – Match ratings and comments on all of the NUFC players – Read HERE)
(Luis Enrique struggling to come to terms with biggest ever(*) PSG Champions League defeat in group stage – Read HERE)