Newcastle United loan signing sends Saints above Sunderland – Very late drama
I was toasting Ryan Fraser last night.
No, honestly.
Ryan Fraser scoring his first goal in nineteen months, in a moment of hire drama.
Still on cloud nine after that quite honestly superb performance against Crystal Palace, I was wondering just how things could get any better.
Then they did.
I bumped into a Mackem I know in the local and it was hilarious.
This is someone who keeps making a beeline for me whenever I go in the pub down our street, he keeps telling me that Sunderland are now absolutely brilliant. How he dreams of them getting is in the FA Cup in January because there is, apparently no doubt as to who will win. That team apparently wears red and white stripes.
Yes, honestly.
Even after our 4-1 against PSG, my Mackem 'mate' reckoned the scoreline would have been just the same, or even better, if it had been Sunderland playing against Mbappe and the rest.
It really is fascinating hearing what some of these people honestly believe, I say fascinating but you could also call it frightening, these characters allowed to walk amongst us when suffering such high levels of delusion.
Actually though, for our Mackem 'friend' in question, his delusion is now experiencing severe cracks. No, it isn't that he thinks now that Sunderland would only beat PSG 3-1, instead he is having suspicions that Tony Mowbray and his 1970s Brazil level Sunderland team, might not actually be all that.
He was fuming, he'd gone down to Stoke who started yesterday's match fourth bottom, with the Mackems ending up losing 2-1. To make matters worse, the opposition manager was Alex Neil who thought Stoke were a bigger club than Sunderland and walked out on the Mackems for them.
To make matters worse for him, apparently he has some irrational hatred of Ryan Fraser as well, I couldn't really follow what he was saying. However, I did eventually understand (and checked it out later) that Ryan Fraser had scored a late winner for Southampton at Hull and this had taken them above Sunderland. I checked and the Newcastle loan player had come on as an 84th minute sub with the score 1-1 and scored the winner in the fifth minute of added time.
Leaving the Championship table looking like this on Sunday morning: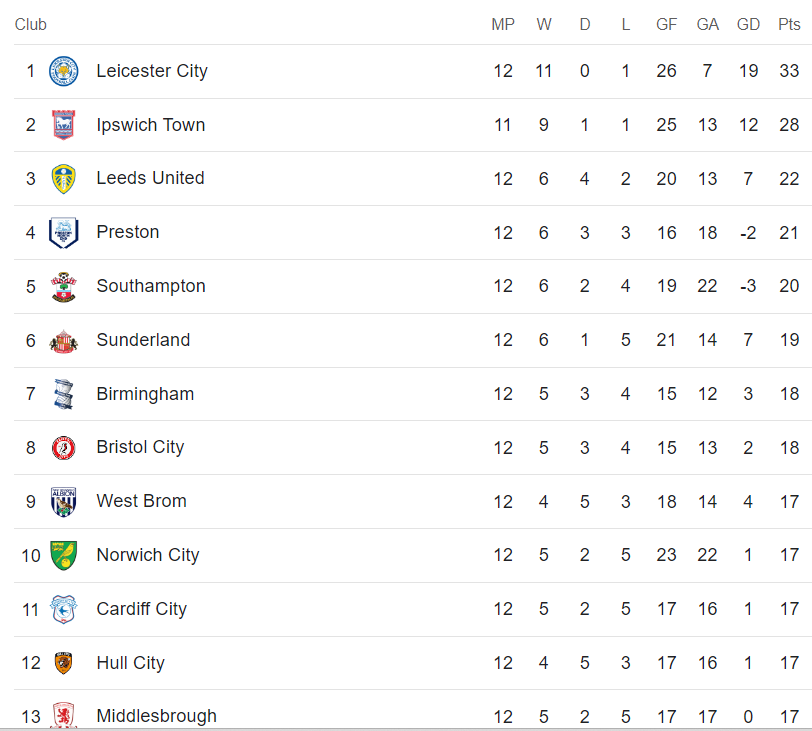 I'm not sure what has happened to the new 1970s Brazil side on Wearside and their Pep Guardiola rival, Tony Mowbray.
Sunderland have lost five of their twelve league matches, as well as knocked out of the Carabao Cup by League Two Crewe, at home.
In their last five league games they have now lost 2-1 to struggling Stoke, lost at home to Cardiff and got hammered 4-0 at home by Middlesbrough.
When it comes to the (now rapidly receding!) delusional Sunderland are a class above Newcastle United claims.
In the last two and a half months the Mackems have lost six games to second tier and fourth tier opposition.
Meanwhile, against Premier League and Champions League opposition, Newcastle have lost seven times these past thirteen and a half months.
There clearly is only one decent level team in the Championship and it certainly isn't Sunderland. Actually, the Mackems are already a massive 14 points behind Leicester BUT only six points above Stoke who are fifth bottom.
Roll on that FA Cup third round draw…