Newcastle 4 PSG 1 – Eddie's Euro conquering Mags man, how far can they actually go?
Right, tonight was the night, it's finally arrived.
The Champions League returning to St James' Park was something I thought I'd never see, or at the very least not for another generation. It was thinking of the next generation that prompted me to go against the usual instinct and sign my nine year old son up for these evening kick offs, I couldn't let him miss out on the days Tyneside had been waiting for.
Off the bus into town and the place was mental.
The police had the street at a standstill as PSG Ultras were marching up Blackett Street towards the ground, with hundreds of welcoming Mags greeting them with songs from a swathe of black and white.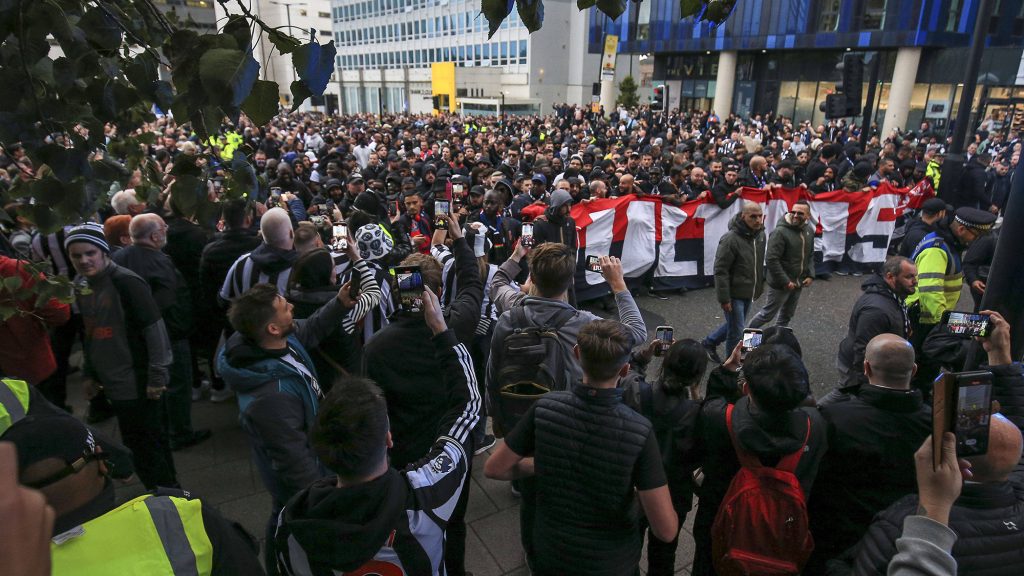 Me and the boy squeezed past and grabbed a quick Nandos followed by a few settlers for me ahead of joining the throng for the journey up to the temple on the hill.
Everything just felt special. People were buzzing, random songs were sprouting up and all sorts of cameras kicking about outside. Inside the stadium was, of course spectacular. The ground seemed full to the brim a good half an hour before kick off and the flag display was reminiscent of the league cup final as everyone played their part turning the place black and white.
The noise was up to the level reserved for special nights as the repertoire included the ones set up by the DJ (spinning Hey Jude and Rockin all over the world to prompt the colloquial versions of both) and the more off the cuff, organically occurring tunes. It was brilliant and still managed to find an extra decibel as the teams emerged to line up, with the sound only decreasing slightly to give due reverence to the magnificent sound of the Champions League theme ringing out here for the first time in twenty years and seven months. If you don't count the Sam Fender gig.
My hope was that this would count for something. Of the sides in group F, PSG were probably the least used to huge intimidating atmospheres playing in the relatively moderate setting of Ligue 1. They were the most likely to freeze on our patch, wondering just where the hell they were and what the thump they'd gotten themselves into. The fact le Parisiens were the top seed and arguably the strongest opponent, meant we really needed to turn this situation to our advantage.
The game started in a similar way to our recent couple of league games as we survived a very avoidable scare, having presented the opponent with too much freedom at the back post. Instead of McAtee crossing for Thomas at Sheff Utd, or Koleosho breaking free for Burnley, this was World Cup final hat-trick scorer Kylian Mbappe steaming down on goal and knocking it to Ousmane Dembele at the back post. Dan Burn haring across seemed to do enough to put Dembele off and he drove his shot wide to the left of the goal. Early let off, so now we survive the first ten minutes with less possession, then settle down and control the game. You know what reader? That's exactly what happened.
Our first goal was one of the lushest, most magnificent moments ever and it's a shame it can only really happen once. PSG were starting to look ragged at the back under our high press and Marquinhos attempted a terrible weak ball out from the back that was seized on by Tonali, who controlled his header straight back in towards Isak. Isak turned into the ball and unleashed a vicious shot that Donnarumma got down well to save, but the power meant he could only send it back out towards the marauding Almiron, who provided the most sumptuously cool finish, powering it perfectly into the opposite corner. The sound was incredible, our first Champions League goal since Shearer in Milan. Screaming, hollering, even the odd wobbly lip. Big beaming smile from my little un as I chucked him up a height. This was almost a release, letting go of years of frustration and I still don't think we can all quite believe it.
To make things even better, United were now comfortably in the driving seat. Trippier tried a clever quick corner which Schar smashed first time but sent narrowly wide. Hmm, maybe Fab's in that sort of mood tonight. PSG were struggling to get out of their half as Bruno and Tonali had assumed complete control of the midfield, intercepting, hustling and generally just taking the ball off them, the best game these two have had together as they were everywhere.
With half time approaching a Trippier free kick created chaos in the box. Lascelles' header may have got an awkward deflection as Donnarumma desperately palmed the ball away, then had to get down t9 block Bruno's cheeky follow up attempt from a narrow angle. The ball only broke back to Bruno who floated it to the back post, with the goalie recovering yet again to claw Burn's header away. The ball was then cleared, a flag went up and my head was spinning about what exactly was happening. Then we realised play was stopped and the VAR check was up.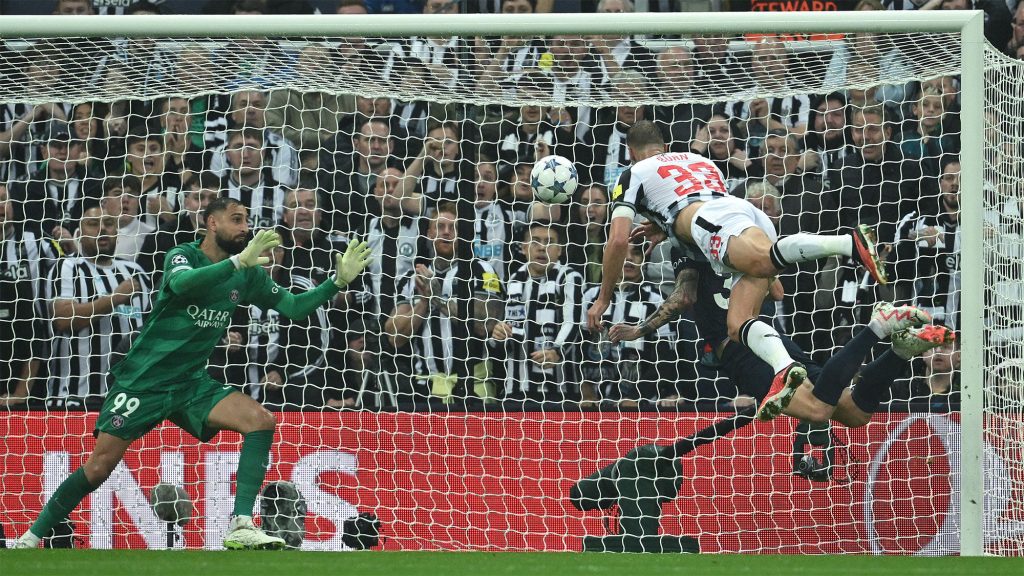 This might be a goal.
After what seemed like an age, the ref drew a little box and pointed to the centre circle. Dan Burn had scored for Newcastle, in the Champions League, against PSG. How this prospect would have sounded to him five years ago is mind boggling. Having seen it back, the most baffling aspect is how long it took to give this perfectly good goal as the goal line technology advised the ref it had passed and it was blatant that Marquinhos was playing Bruno onside where the alleged offence had been given, 2-0 man, this is mint.
We survived until half time despite a glut of injury time following an alarmingly long period on the deck for Isak, who emerged in some kind of Rab C Nesbitt outfit but blessedly apparently unharmed when it had seemed so much worse.
The second half opened to a tinge of nerves, things would need to be kept tight for a bit against top class opposition with a ballon d'or contender up front.
Or we could just plough into a 3-0 lead?
It took five minutes before Trippier picked Longstaff's run into the box. I think everyone expected him to look to square to Isak or Gordon in the middle, including Donnarumma apparently as he was taken entirely by surprise when Lobby hammered the ball under him and into the Gallowgate net. Two Geordies scoring in the same Champions League game, not even Shearer and Shola managed that. There was a sense that this may have provided a killer touch and we may have been able to enjoy the rest of the match with calm and confidence.
Course, PSG had to score five minutes later and set the nerves jangling, 17 year old Warren Zaire-Emery is a name that will definitely be heard again in years to come and having arguably been the visitors' stand out player it was of course him that created the goal, that spoilt a clean sheet record of over 500 minutes stretching back over a month. Zaire-Emery dinked a smart little ball over the entire defence that fooled everyone and allowed the onrushing Lucas Hernandez to glance a header past Pope. We almost got rescued by the VAR but this time the check didn't fall our way and rightly so as t'were a run timed to perfection. The Parisian fans celebrated with flares to accompany the incessant drum sounds up in level 7, they were determined to enjoy this and fair play to them.
A short period of nervousness followed, with the excellent Lascelles tracking Dembele's run and crowding him out. PSG showed a bit more urgency but Eddie utilised game management, replacing flagging players with fresh legs. I thought Tonali was outstanding, so was a bit surprised to see him go first for Anderson. Murphy followed for Almiron, whose non-stop running and probing earned him the man of the match award. Well deserved, although I would probably have given it to Bruno, looking back to his impervious best.
A nervy last ten minutes was navigated in spite of Pope slamming every goal kick directly out of play, before the game was sealed in the first minute of injury time. Schar won the ball with a strong tackle in midfield and, perhaps sensing the result was safe, decided to take it for a walk forward. He played a one-two with Murphy, receiving the ball back in his favourite position, ready to smash one from the edge of the box. Blam, top corner, 4-1, top of the group. Place went utterly nuts.
At this point my lad was jumping up and down on his seat, waving his scarf. This was a smart recovery from his dozing on my knee at half time and having a bit of a crash midway through the second. Adjusting to middle school with a few extra sports classes and the additional efforts required for his performances with Westerhope United U10 Silvers was all taking its toll a bit and I'd wondered if he had this late night in him.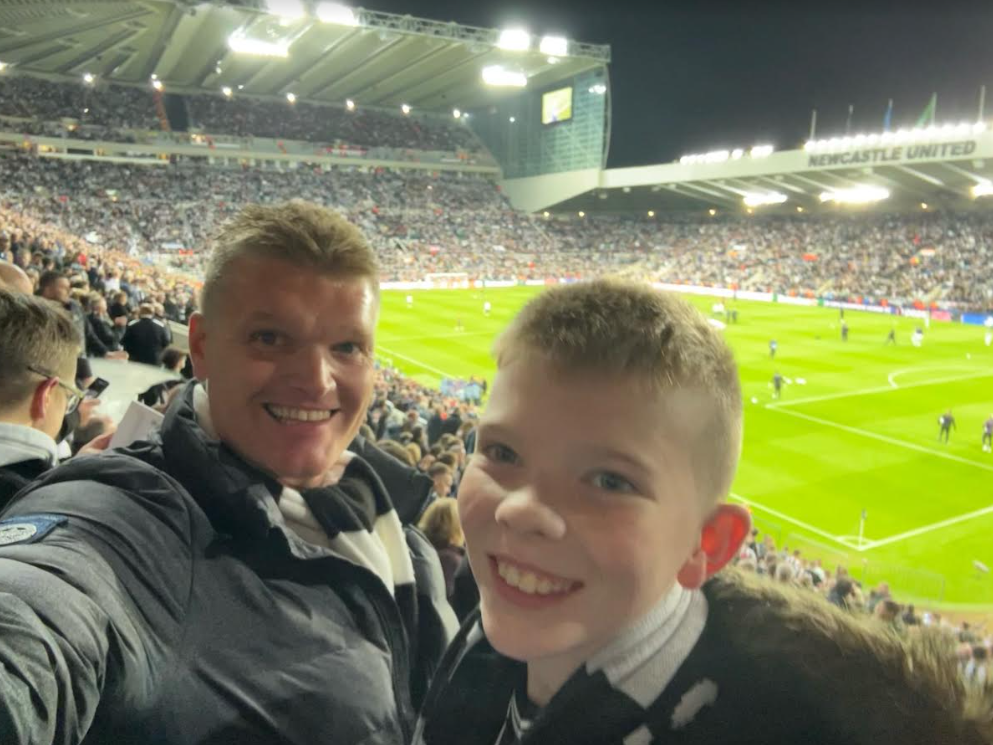 To see him deliriously jumping around after Fab's goal made it all worthwhile and I know he'll love it in future to be able to say he was there.
He's not the only one, as I think every person here tonight appreciated what they had experienced thoroughly. Some day we'll maybe expect to coast through group games and maybe this will be a time looked back on fondly as we find our way in Europe's Premier Competition. There'll be a few characters sit up and take notice of us after tonight I can assure you of that.
Next CL games bring a double header with Dortmund that could prove definitive. I'd put us as favourites at home and if we can produce a performance close to this we could well take a commanding position to Germany against an opponent whose prospects will be looking bleak.
Hopefully we'll have a more complete squad by then, as the niggles will start to dissipate. Not so sure about West Ham though, as the suspended Gordon will be added to the absentees and there has to be concern over the kicking Isak took tonight. Eddie's squad has a way of reproducing the goods whoever turns out though, and a win in London would seal a truly remarkable run between international breaks, with a very good chance to recalibrate to keep what could well be a stellar season on track.
Regardless of what happens, we were provided with another timeless memory tonight. Incredibly, three players who were on various stages of the scrap heap under Steve Bruce took centre stage in tearing apart one of Europe's most ominous sides. Yes we've reinforced heavily around them but Schar, Longstaff and Almiron were a credit to the work of our manager tonight, as was every player in black and white.
Eddie's Euro conquering Mags man, how far can they actually go?
Stats from BBC Sport:
Newcastle 4 PSG 1 – Wednesday 4 October 8pm
Goals:
Newcastle United:
Almiron 17, Burn 39, Longstaff 50, Schar 90+1
PSG:
Hernandez 56
(Half-time stats in brackets)
Possession was PSG 73% (69%)  Newcastle 27% (31%)
Total shots were PSG 11 (4) Newcastle 12 (8)
Shots on target were PSG 2 (0) Newcastle 8 (4)
Corners were PSG 8 (4) Newcastle 1 (1)
Newcastle United:
Pope, Trippier, Lascelles, Schar, Burn, Longstaff, Bruno, Tonali (Anderson 65), Almiron (Murphy 71), Isak, Gordon (Targett 90+3)
UNUSED SUBS:
Dubravka, Karius, Dummett, Hall, Livramento, L.Miley
(A thing of beauty is a joy forever – Now, bring on the Germans! Read HERE)
(Newcastle 4 PSG 1 – Instant NUFC fan / writer reaction – Read HERE)
(Newcastle 4 PSG 1 – Champions League, we're having a laugh! Read HERE)
(Newcastle 4 PSG 1 – Match ratings and comments on all of the NUFC players – Read HERE)
(Luis Enrique struggling to come to terms with biggest ever(*) PSG Champions League defeat in group stage – Read HERE)
You can follow the author on Twitter @Mr_Dolf