My Las Vegas experience – Newcastle United The Tiny Club
I watched the Newcastle United game versus Crystal Palace at 7am in The Crown and Anchor in Las Vegas.
I had been searching the Strip and asking people where was best to go, the night before. Every suggestion I got turned out to be false.
In the end The Crown and Achor was recommended.
I rang them and asked if they were likely to show the game. I was told, 'We show every Premier League game, every England game, every rugby game, every cricket game. That's why we're the world famous Crown and Anchor.'
I'll take that as a yes then.
I woke up at 5.45am and strolled the 45 minutes to the pub. It was way off The Strip but the weather was lovely and I was walking towards a golden sunrise. I could look over my shoulder to see the lights of The Strip. It was a beautiful early morning stroll.
As soon as I entered the pub, I saw two Newcastle fans at the bar who I greeted heartily. As a sat down I heard the barman say that the commentary played would be for the Newcastle game. There were four screens. One showed Man City vs Brighton, one showed Brentford vs Burnley and the other two both showed Newcastle.
As I looked around, I saw two more Newcastle shirts, one Arsenal and one Chelsea. We're a small club right? A team with little support outside the North East. A noisy neighbour to the big, bold six. Well on this evidence we had five fans out of the seven in club colours whilst there was zero representation for the treble winners in attendance.
Ten minutes into the match a lady walked in with the 95-96 home shirt and a black and white scarf around her neck. As the match wore on, I realised that a table of four chaps in the corner had Geordie accents. They weren't wearing club colours but were Newcastle fans too. At this point there were less than twenty people in the bar and over half of them supported our lot.
As the game wore on and the goals flowed, I got chatting to some of them. One of them was Las Vegas based whilst his friend was a Londoner who now lived in LA for work.
The lady that had come in was from New York but had come to Las Vegas for the U2 residency at The Sphere. She was part of the New York fanbase and showed me videos of 20 to 30 Newcastle fans singing and dancing in a bar in New York. I loved hearing about how so many of them get together for every game and sing all the chants and have their own nicknames for players such as Juicy J for Jacob Murphy. She had been to every game of the pre-season friendlies and had met the likes of Shay and Shola as well as Callum Wilson and Dan Burn out there.
How did she become a Newcastle fan?
She loves Sam Fender, loves sports and decided to support Newcastle after finding out that it was Sam's local team. Amazing story. Since becoming a fan, she's been over to watch us away at Chelsea last season, saw all those friendlies and has a trip booked to go to St James' Park for the home clash against Chelsea at the end of next month.
These fans I spoke to were knowledgeable too. These weren't glory supporters or token fans. They knew their stuff. I have mates that support other sides and could tell you next to nothing about their teams. These guys and gal were clued up, knew all the NUFC Youtubers and Fanzines and talked to me at length about the players and the team. Natalie, the New York based lass, has written programme notes that will be published for the Dortmund game, look out for those, and is a reader of The Mag.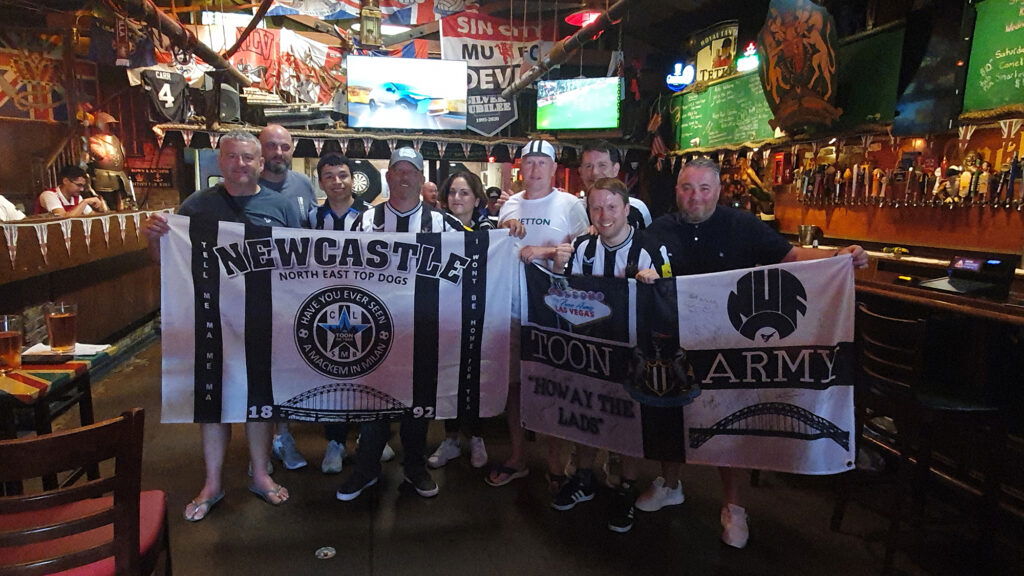 (Our thanks to Billy Miller for the photo – Newcastle fans in Crown and Anchor, Las Vegas, after the Palace demolition)
It was a wonderful game, a fabulous experience and told me the true story of how big our club really is. This team has a huge, worldwide, knowledgeable, and passionate fanbase. We are on a journey and this base will grow and grow. Worldwide sales will continue to improve and one day FFP will be so much less of an obstacle.
If you ever need to watch a Newcastle game (or any other Premier League, England, rugby or cricket game) I would strongly recommend The Crown and Anchor on East Tropicana Avenue.
Stats via BBC Sport:
Newcastle 4 Crystal Palace 0 – Saturday 21 October 3pm
Goals:
Newcastle United:
Murphy 4, Gordon 44, Longstaff 45+2, Wilson 66
Palace:
Possession was Palace 40%  Newcastle 60%
Total shots were Palace 17 Newcastle 10
Shots on target were Palace 3 Newcastle 7
Corners were Palace 8 Newcastle 6
Referee: Tim Robinson
Newcastle United:
Pope, Trippier (Livramento 69), Lascelles, Schar, Burn, Longstaff, Bruno (Tonali 69), Joelinton  (Anderson 80), Murphy, Wilson (Isak 69), Gordon (Almiron 69)
UNUSED SUBS:
Dubravka, Dummett, Targett, Hall
(Roy Hodgson with blinding honesty after Palace hiding at St James' Park – Read HERE)
(Official Newcastle United injury update after 4-0 Palace hammering – Disappointing on Sven Botman – Read HERE)
(Newcastle 4 Crystal Palace 0 – Match ratings and comments on all of the NUFC players – Read HERE)
(Newcastle 4 Crystal Palace 0 – Instant NUFC fan / writer reaction – Read HERE)
(Read Newcastle 4 Crystal Palace 0 – Brilliant from United – Read HERE)
Newcastle United upcoming matches:
Wednesday 25 October 2023 – Newcastle v Dortmund (8pm) TNT Sports
Saturday 28 October 2023 – Wolves v Newcastle (5.30pm) Sky Sports
Wednesday 1 November 2023 – Manchester United v Newcastle United (8.15pm) Sky Sports
Saturday 4 November 2023 – Newcastle v Arsenal (5.30pm) Sky Sports
Tuesday 7 November 2023 – Borussia Dortmund v Newcastle (5.45pm) TNT Sports
Saturday 11 November 2023 – Bournemouth v Newcastle (5.30pm) Sky Sports
Saturday 2 December 2023 – Newcastle United v Manchester United (8pm) TNT Sports
You can follow the author on Twitter @billymerlin