Key information released for all Newcastle United fans travelling to Borussia Dortmund
The club have released key information for all Newcastle supporters travelling to the Borussia Dortmund match.
Wednesday 7 November seeing United back in Champions League action.
The Borussia Dortmund v Newcastle United match the fourth of six group games for the two clubs.
Newcastle United official announcement for fans travelling to Borussia Dortmund – 30 October 2023:
Supporters travelling to Germany for the Magpies' UEFA Champions League group stage match against BVB Dortmund on Tuesday, 7th November 2023 are advised to take note of the following important information.
Kick-off is 6.45pm local time, 5.45pm UK time. Gates open at 4.15pm local time.
Key information about Dortmund and Germany
We recommend fans familiarise themselves with the government's travel advice for Germany. Supporters requiring assistance from the British Consulate General in Dortmund or Dusseldorf should call +49 (0)21 194 480
Alternatively, consular enquiries can be directed to here – Contact an Embassy – GOV.UK (contact-embassy.service.gov.uk)
Information for tourists in Dortmund can be found here – The tourism portal of the city of Dortmund – #visitDORTMUND
Emergency numbers in Germany:
Police – 110
Ambulance – 112
Fire Brigade – 112
There are no specific areas of Dortmund that Newcastle United fans are advised to avoid.
The official currency of Germany is the Euro.
Street crime, including pickpocketing, can take place in Dortmund. Supporters are advised to be vigilant, take sensible precautions and ensure they have valid travel insurance.
It is legal to consume alcohol on the streets in Germany.
Passport validity
Supporters are advised that passports must have been issued less than 10 years before the date of entry to Germany (check the 'date of issue') and be valid for at least three months after the day of departure (check the 'expiry date').
Passports issued before 1st October 2018, may have extra months added to their expiry date which will not be valid when travelling to the EU. Supporters are advised to check their passports meet these requirements before travelling.
Getting to Signal Iduna Park
Supporters should plan their journey to arrive at the stadium no later than one hour before kick-off.
From central Dortmund fans have a few options to get to Signal Iduna Park. There is the option to walk to the stadium which takes around 30 minutes from the city centre. Alternatively, fans can take the U-bahn and get off at 'Westfalenhalle' or 'Stadion'. Both stations are in close proximity to the stadium, however, 'stadion' station is closer to the access to the away sector.
The U-bahn system is wheelchair accessible. More information on the U-bahn system can be found here: www.dsw21.de
On matchday, tickets for public transport are free for supporters who hold a valid match ticket. This includes regionalised transport from neighbouring Dusseldorf. ICE & IC trains are not included in this.
Parking at Signal Iduna Park
There is parking available for fans travelling by car or bus to this fixture. Parking is in car park E3 and will be open from midday. Payment is cash only and is priced at 8 Euro per car and 30 Euro per coach.
Accessible Parking at Signal Iduna Park
There is specific accessible parking available for fans requiring easy access to the stadium for accessibility needs. This is car park C2 which is located approx. 350m from the stadium.
Fans requiring this parking should email disabilitysupport@nufc.co.uk
On Arrival at Signal Iduna Park
All Newcastle United supporters will enter the turnstiles via gates 'Away fans: Blocks 08, 60, 61, 70' on Strobelallee street, this is for all fans with away tickets. Upon arrival at the turnstiles fans will receive a soft ticket check to make sure your ticket is for this section. This will then be followed by a body search complete by Dortmund stewards. Following the search there will be a turnstile to enter the stadium.
Once through the turnstile, you will be on the concourse where there are concessions available and toilet facilities. Please note, these areas are mixed and facilitates on the concourse are shared with home fans.
Fans will then have a ticket check before making their way to the standing area or seated section of our allocation. The seating section is allocated directly above our standing allocation.
For supporters in the seating section of the away allocation, there are safety bars positioned in front of seats. Supporters are advised that the section has a steep incline and handrails should be used when moving up and down steps.
Access to the seating section is via stairs – for any supporters with tickets in this allocation with accessibility needs please email disability support on disabilitysupport@nufc.co.uk who will register this and liaise with Dortmund to provide support.
Wheelchair Access
Supporters with wheelchair accessible tickets who are parked in car park 'C2' should proceed straight to the 'Sud Ost' entrance at the stadium. Those arriving via public transport should proceed straight to the 'Nord Ost' entrance. BVB will have staff available to escort you to your area.
The location of these ticket may be exposed to inclement weather, so supporters are advised to prepare accordingly. Accessible toilets and concessions are located on a concourse directly behind the seating location. BVB staff will speak with all wheelchair users during the first half to take any food or beverage orders which will then be delivered at half time.
In the location of the wheelchair access seats the position of the personal assistant seat is located behind wheelchair user seating locations.
If you require any further clarification or assistance on this – please email disability support with questions on disabilitysupport@nufc.co.uk.
Alcohol
There will be alcohol served at Signal Iduna Park. This is likely to be 3% local lager/beer and can be taken on to the tribunes to consume Infront of the field of play.
Kiosks in Signal Iduna Park
There are several kiosks available for Newcastle United fans in the away sector, these will be card payment only. Kiosk will sell hot and cold food and beverages.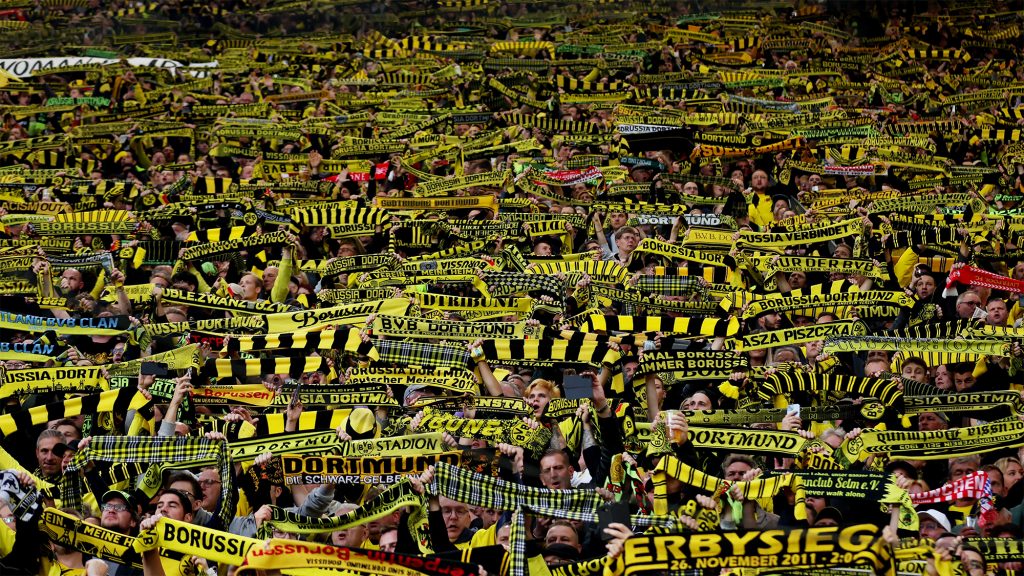 Toilets at Signal Iduna Park
There are ample toilet facilities for the away sector at Signal Iduna Park.
Medical and Disability support facilities at Signal Iduna Park
There is a medical room at the stadium and the stewards will be able to direct you there if required.
Furthermore, if anyone feels uncomfortable and requires a quiet space at the stadium you can reference 'PANAMA' to all the stewards and volunteers on site and they will be able to support you on this.
Bag Policy
Bags of A4 size and smaller will be permitted in the stadium and will be searched on entry.
For any supporters who require a bag containing medical equipment or supplies please contact d disabilitysupport@nufc.co.uk before midday on Friday 3rdNovember.
Bag Storage
For bags larger than A4, there is a storage unit directly opposite the away section entrance on Strobelallee.
There will be a €1 cash fee for this service.
Suite cases will not be stored here.
Flags
Flags and banners of all sizes will be permitted and do not require any preapproval for this fixture.
Flags will be checked by BVB Dortmund stewards before admission. Newcastle United stewards will be on hand to support if necessary.
Flags that are offensive or discriminatory in nature will not be permitted.
Prohibited Items
The following items are not permitted at Signal Iduna Park:
Selfie Sticks
Camera Tripods
Glass
Knives
Laser pointers
Long umbrellas (small, extendable umbrellas are permitted)
Pyrotechnics and explosive materials (including flares, firecrackers and smoke bombs)
Weapons
Drugs
Following the game
There is no plan to hold Newcastle United Supporters back following the conclusion of the fixture. Should this change, fans will be notified over the stadium sound system. In this event, kiosks and toilets will remain open for this period.