Hypocrite journalist at it again with embarrassing Saudi Arabia attack on Newcastle United
Ever since it became clear that the Saudi Arabia PIF were trying to lead a buyout of Newcastle United from Mike Ashley, certain journalists have been relentless in their attacks on Newcastle United and especially the Newcastle fans.
One of the most prolific is Oliver Holt.
Amongst the many embarrassing moments in his relentless attacks on Newcastle United fans, there was a classic at the Qatar World Cup.
Oliver Holt had refused to boycott this World Cup and instead it his vote of support and added credibility by travelling there, any morals thrown out of the window, actually paid to be in Qatar, staying in luxury hotels and eating in top end restaurants on expenses, ensuring extra cash flows into the regime in Qatar.
Then he had the nerve to come out with this after Argentina 1 Saudi Arabia 2…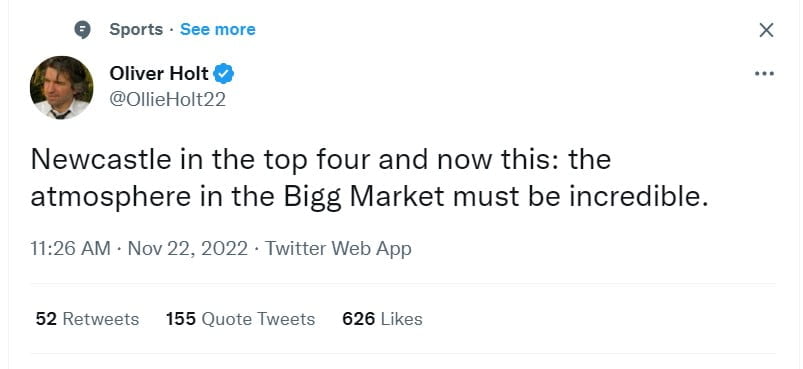 Honestly, what an embarrassment this bloke is.
Oliver Holt, Chief Sports Writer at The Mail on Sunday…coming out with this lame attempted provocation of Newcastle United fans. His employers pay all that money on wages and expenses for this character to be in Qatar, then that is what he comes out with???
The fact that Holt sees himself as some kind of moral champion is surely the funniest thing of all, he is simply an absolute hypocrite of the highest order.
If journalists are so disgusted with where money comes from when it comes to Premier League clubs, then surely they couldn't work for any employer who does business with any such country / regime that they disapprove of…
Maybe somebody such as Oliver Holt?
Now Oliver Holt has somehow managed to write an article about the passing of Bill Kenwright and the shameful abuse he was subjected to by fellow Everton supporters, BUT turn it into an attack on Newcastle United!!!
Oliver Holt writing for The Mail – 31 October 2023:
"It was a great grief to him [Bill Kenwright] that he could not bring the kid of success to Everton he and the fans craved. No one gives him credit for it but it was his triumph that he kept the club in the Premier League when plenty of other big clubs fell by the wayside and down the divisions.
"He preserved Everton's soul, too. Maybe some supporters would rather the club had sold that soul, like Newcastle United, to a nation state. Everton have not done that and, for all their troubles, there is a worth to that which has untold value.
"It is hard not to feel angry about the way he was treated by supporters but that is the way football is now. It is not about Everton supporters, either. They are hardly alone in meting out that kind of treatment. They have a right to protest, too. It is just that, with Bill, it was hard to escape the conclusion they were looking for a scapegoat and they picked the wrong man."
Honestly, you couldn't make it up.
Holt even managing to excuse the shocking behaviour of Everton fans for the way they treated Kenwright. Whilst managing to turn it into an attack on Newcastle United!
This is always the real silver bullet though when it comes to Holt's shameless embarrassing attacks on Newcastle United and the NUFC fanbase.
Neil Farrington via Twitter – 15 May 2022:
"Wonder what Ollie Holt thinks of his employers (Daily Mail and General Trust – DMGT) putting on the Saudi Entertainment and Amusement Expo – "the Kingdom's first ever trade event dedicated to the entertainment and amusement industry" – this coming week.
"Or the Saudi Light & Sound Expo.
"Or the Hotel Show Saudi Arabia.
"Or the Saudi Infrastructure Expo.
"Or the Index Saudi interior design expo."
Newcastle United fans don't choose which football club they support, just like any other genuine football fans, their club chose them. It is a lifelong arrangement, not like changing your supermarket, or your job…
Oliver Holt works for an organisation where the money that goes into his bank account, is directly linked in part, to money that is generated by DMGT's (Daily Mail and General Trust's) relationship with the Saudi Arabia state. The people that Oliver Holt works for, have for example organised the Hotel Show Saudi Arabia in Riyadh.
Oliver Holt chooses who he works for, so if he has such Mount Everest level principles, how can he face working for an organisation that has such huge business interests involving Saudi Arabia. where it generates millions and millions of pounds in revenue that help pay Holt's wages?
If the hypocrite Oliver Holt one day refuses to continue taking money from his employers who generate so much cash from Saudi Arabia, then just maybe he could be able to throw cheap insults at Newcastle United and its fans without being a hypocrite, instead just only be plain embarrassing.
For starters though, surely if he has any integrity, then at the very least, every time Oliver Holt writes something about Newcastle United / Eddie Howe / NUFC fans and the Saudi Arabia PIF majority ownership, he is surely duty bound to at the same time admit that his wages are paid by an employer who makes millions due to numerous business relationships with the Saudi Arabia state….and then stridently condemn them for doing so.
Of course, there are plenty of other embarrassing skeletons in the Oliver Holt cupboard that he wishes would just disappear…
Oliver Holt – 7 December 2019 in The Mail:
'When the UK government trades with the Saudis, it is hard to blame Hearn and Joshua for taking their money, too.'
Oliver Holt had this to say on likes of Chelsea and Man City back in 2011:
@danielvh88 Does it really matter whose money it is? Chelsea spend Russian money, City spend Arab money, West Ham spend English money.

— Oliver Holt (@OllieHolt22) May 15, 2011
Yes, there is shameless, then there is Oliver Holt.