Gareth Southgate to have hand forced by Newcastle United players – Even he can't ignore this
Gareth Southgate will almost certainly be at St James' Park on Wednesday night.
The England boss taking in the Newcastle United v Borussia Dortmund in the Champions League, as opposed to flying out to watch Man City in Switzerland.
Gareth Southgate having missed out on watching Eddie Howe's side tearing Crystal Palace apart.
That superb performance seeing Howe name 13 English players in his matchday squad, eight of who started, with four of them scoring the goals.
Yet Gareth Southgate claims that there are a dearth of decent quality players available to him…
The England boss claiming this as part of his justification for selecting players who pretty much never play league football for their clubs (Phillips, Maguire), as well as those playing in feeble leagues such as the Saudi one and who will turn 34 (Henderson) ahead of next summer's Euros in Germany.
Just ahead of naming his most recent England squad, Gareth Southgate WAS at St James' Park to see the 4-1 dismantling of PSG, where nine of the 14 NUFC players used were English, including six of the starters, with two of the four goals scored by English players.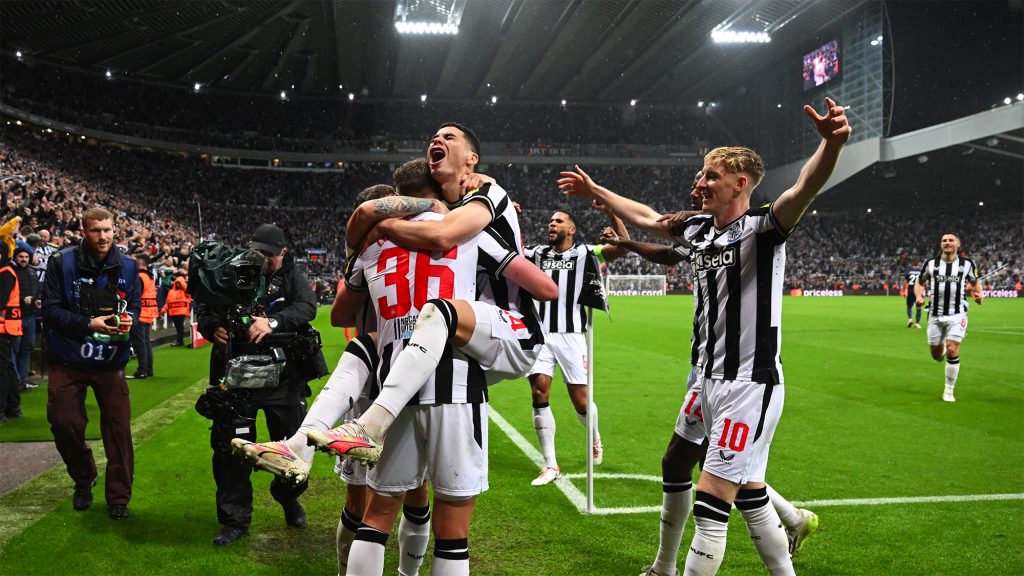 Yes, where on earth can you find any decent English players…?
England were very lucky to get a 1-0 win against Australia who were the better team with better chances, whilst the 3-1 victory was also a case of Gareth Southgate carrying all the luck. The usual negative tactics and clueless team selection (Maguire and Phillips starting, Henderson off the bench) overcome by the individual brilliance of the likes of Kane, Rashford, Foden and especially Bellingham. Italy are a really poor to average side these days and yet Gareth Southgate defended so deep and invited them on, only saved by brilliant breaks for the goals, led by best in the world Bellingham.
Despite so many English players excelling for Newcastle United, both short-term and longer-term, Gareth Southgate only selected one NUFC player in his October squad. Even he couldn't ignore Kieran Trippier!
So what can the Newcastle United players do, to force than hand of Gareth Southgate, as he digs an ever deeper hole with his refusal to stop selecting the likes of Maguire, Henderson, Phillips and others, to instead give a chance to those players who consistently perform well for their clubs?
Well, it all comes down to goals, in my opinion.
Goals are what can't be ignored, eventually…
The likes of Joe Willock and Sean Longstaff were superb last season, indeed, ever since Eddie Howe saved them from Steve Bruce. Yet, ignored totally by Gareth Southgate.
The two midfielders were massive reasons for Newcastle United ending up in the Champions League, their unselfish play key to NUFC success. However, Willock with only three Premier League goals last season and indeed only five in total across the 2021/22 and 2022/23 seasons, whilst Sean Longstaff only one PL goal last season and indeed only four in total in his career!
This lack of goals giving Gareth Southgate an escape clause, a reason to justify not picking them.
Whilst we wait for Joe Willock to hopefully return from injury very soon, Sean Longstaff is showing the way forward.
Despite only seven starts in all competitions this season, the Geordie midfielder already has three goals and one assist. If he keeps that up and say gets double figure goals as well as an impressive number of assists, could even Gareth Southgate still ignore him? I am not saying Longstaff should be starting ahead of Bellingham BUT I am saying that he surely has to be considered for a place in this England squad, where for me there are a fair few regular squad members who flatter to deceive.
On a similar theme, Anthony Gordon only managed four direct goal involvements (four goals and zero assists) last season in the Premier League. Having made seven PL starts this season, Gordon already with five direct goal involvements (three goals and two assists). He has been superb and surely if he keeps up those goal involvement stats, can Gareth Southgate really ignore his claims?
Callum Wilson missed this latest England squad through injury / fitness issues but he will see his goals keep ensuring that Gareth Southgate can't ignore him, ever since his early season form last season forced his way into the World Cup squad. Wilson already has five PL goals in 329 minutes this season, averaging one every 66 minutes.
Nick Pope has missed recent England squads and to me, this is very likely a case of the keeper wanting to absolutely concentrate on getting back 100% for Newcastle United after surgery in the summer. His decision made easier by the fact that Gareth Southgate blindly plays Jordan Pickford no matter how many goals he concedes in club football.
With Aaron Ramsdale now no longer playing club football and Palace's Johnstone the other recent choice in the England squad, once again goals, or rather how many of them not conceded in this case, will see Gareth Southgate for sure, having to convince Nick Pope to come back into his squad. The NUFC keeper in brilliant form, six clean sheets in his last eight matches for Newcastle.
Some more massive performances (and goals!) in some huge matches will hopefully see the likes of Longstaff and/or Gordon join Trippier and Wilson (and Pope?) in the November England squad. If not, there then follows another long four months before the final England squad before the end of the season, in March 2024.