Eddie Howe a class act – Reflecting on defeat to Borussia Dortmund
Eddie Howe a class act, as always.
The Newcastle United Head Coach speaking after the home defeat to Borussia Dortmund.
Eddie Howe always measured with what he says, not getting too carried away by victories or reacting over the top to the odd defeat.
The NUFC Head Coach didn't claim anything daft after the thrashing of Palace at the weekend, nor panicking after this setback against Dortmund.
Eddie Howe, speaking after Newcastle 0 Borussia Dortmund 1:
"We never gave up.
"We kept doing the right things.
"We did create chances again, which has been the hallmark of us this season.
"We look like a goal threat.
"Tactically they [Borussia Dortmund] were good and gave us problems in central areas.
"In the second half we were a lot better but unfortunately the ball would not go in.
"The intention was there but we are up against elite teams.
"You make half a mistake and get punished.
"We grew into the game in the second half with the chances we created and the woodwork denied us.
"Now we have to do it the hard way in the group.
"It is going to be difficult but we are in the Champions League. Nothing comes easy.
"You know you are going to have to win in some tough places.
"Now we need to dust ourselves down and be ready for next week.
"We need to sit down and analyse the game.
"When you play a team so quickly again we need to work out how we adjust and see if we can go there and get a result.
"I don't think we deserved to lose today."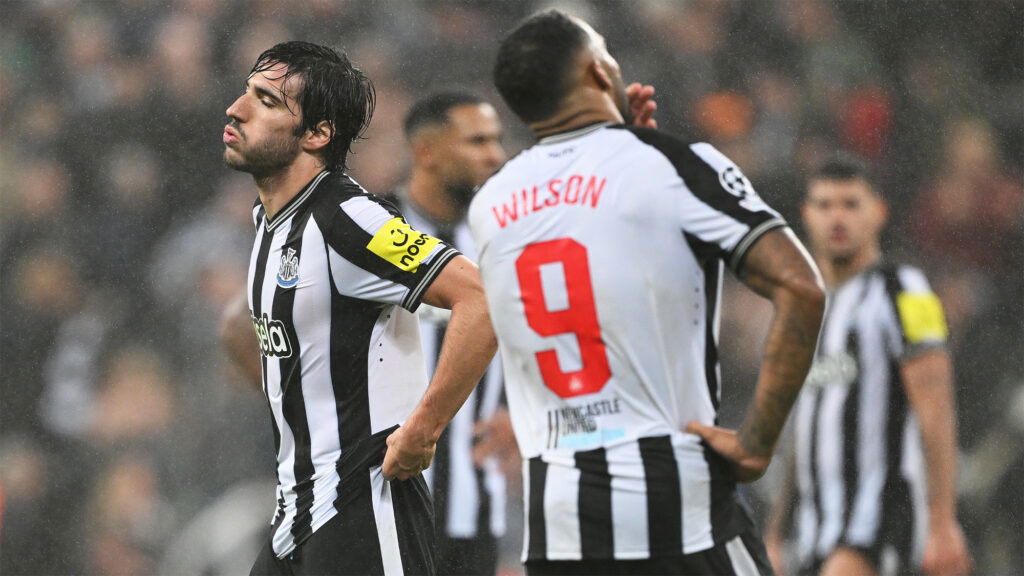 Stats via BBC Sport:
Newcastle 0 Borussia Dortmund 1 – Wednesday 25 October 8pm
Goals:
Newcastle United:
Nmecha 45
Borussia Dortmund:
Possession was Dortmund 40%  Newcastle 60%
Total shots were Dortmund 13 Newcastle 12
Shots on target were Dortmund 5 Newcastle 3
Corners were Dortmund 9 Newcastle 11
Referee: Artur Manuel Soares Dias
Newcastle team v Borussia Dortmund:
Pope, Trippier, Lascelles, Schar, Burn (Targett 70), Longstaff (Tonali 65), Bruno, Joelinton (Murphy 65 (Willock 70), Almiron, Isak (Wilson 15), Gordon
SUBS:
Dubravka, Karius, Dummett, Hall, Livramento
(Match Report – Barely noticeable at first but two hours down the line the novelty had properly worn off… Read HERE)
(3 Positives and 3 Negatives to take from Newcastle 0 Borussia Dortmund 1 – Read HERE)
(Newcastle 0 Borussia Dortmund 1 – Match ratings and comments on all of the NUFC players – Read HERE)
(Newcastle United injury update after Borussia Dortmund defeat – Three pieces of bad news – Read HERE)
(Newcastle 0 Borussia Dortmund 1 – Instant NUFC fan / writer reaction – Read HERE)
Newcastle United confirmed matches to mid-January 2024:
Saturday 28 October 2023 – Wolves v Newcastle (5.30pm) Sky Sports
Wednesday 1 November 2023 – Man U v Newcastle United (8.15pm) Sky Sports
Saturday 4 November 2023 – Newcastle v Arsenal (5.30pm) Sky Sports
Tuesday 7 November 2023 – Borussia Dortmund v Newcastle (5.45pm) TNT Sports
Saturday 11 November 2023 – Bournemouth v Newcastle (5.30pm) Sky Sports
Saturday 25 November 2023 – Newcastle v Chelsea (3pm)
Tuesday 28 November 2023 – PSG v Newcastle (8pm) TNT Sports
Saturday 2 November 2023 – Newcastle United v Man U (8pm) TNT Sports
Thursday 7 December 2023 – Everton v Newcastle (7.30pm) Amazon
Sunday 10 December 2023 – Tottenham v Newcastle (4.30pm) Sky Sports
Wednesday 13 December 2023 – Newcastle v AC Milan (8pm) TNT Sports
Saturday 16 December 2023 – Newcastle v Fulham (3pm)
(W/C Monday 18 December 2023 – A Carabao Cup quarter final if Newcastle beat Man U)
Saturday 23 December 2023 – Luton v Newcastle (3pm)
Tuesday 26 December 2023 – Newcastle v Forest (12.30pm) Amazon
Monday 1 January 2024 – Liverpool v Newcastle (8pm) Sky Sports
(Weekend of Saturday 6 January 2024 – FA Cup third round matches)
Saturday 13 January 2024 – Newcastle v Man City (5.30pm) TNT Sports