Champions League Group F – Social Media extremes for PSG, AC Milan, Borussia Dortmund, Newcastle United
A new report has published its findings after looking into Social Media and the Champions League.
With Sportingpedia looking into the number of Social Media followers each of the 32 competing clubs have.
They have looked at each of the eight groups and here is the 'Group of Death'…
Group F Social Media:
PSG Social Media followers:
14.7m Twitter
51.0m Facebook
65.9m Instagram
40.9m TikTok
172.5m Total
Newcastle United Social Media followers:
2.6m Twitter
3.9m Facebook
2.3m Instagram
2.9m TikTok
11.7m Total
AC Milan Social Media followers:
8.5m Twitter
27.0m Facebook
15.1m Instagram
13.8m TikTok
64.4m Total
Borussia Dortmund Social Media followers:
4.4m Twitter
15.0m Facebook
19.1m Instagram
7.4m TikTok
45.9m Total
So looking at these Champions League Group F Social Media followings in total, that gives us:
172.5m PSG
64.4m AC Milan
45.9m Borussia Dortmund
11.7m Newcastle United
I don't think any Newcastle United fans will be losing any sleep when finishing bottom of this particular Champions League group, when ranked by Social Media followers.
Though I have no doubt that the Newcastle United owners have it on their hit list to radically increase the club's number of Social Media followers in the coming years.
Appearing year in year out in the Champions League would no part play a big part in increasing those numbers and the number of Social Media followers a club has, bears little resemblance to the proper fanbase a club has.
Indeed, many / most of the people who follow clubs on Social Media aren't even fans of that particular club. Doing it for all kinds of other reasons.
A big driving factor for certain signings and certain clubs, is the number of extra Social Media followers they will add to a club's total. Indeed, PSG are probably one of the stand out examples, signing 'name' players. Lionel Messi helped significantly boost the PSG numbers on Social Media but as soon as he left, millions immediately stopped following PSG on the various platforms.
Champions League Group F results and fixtures to come:
Matchday 1: 19 September 2023
PSG 2 Borussia Dortmund 0
Matchday 2: 4 October 2023
Newcastle United 4 Paris Saint-Germain 1
Borussia Dortmund 0 AC Milan 0
This is how Group F looks after the opening two rounds of matches: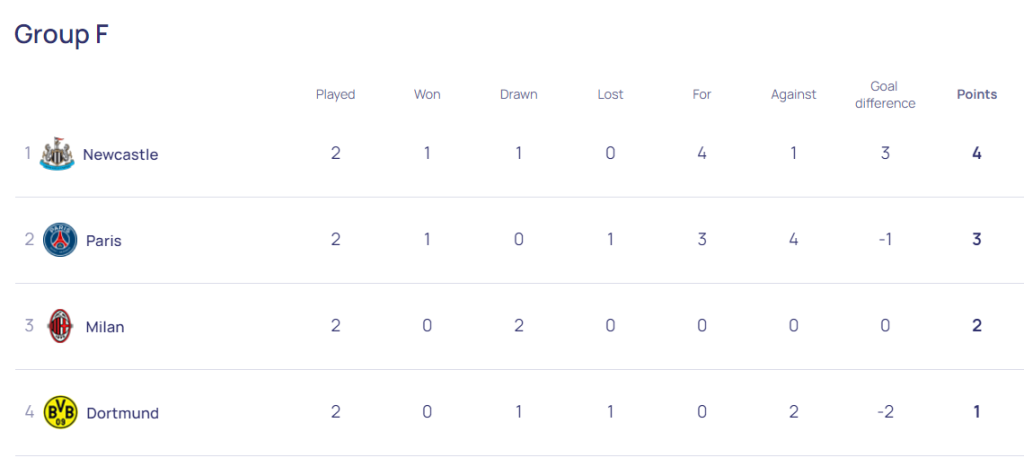 Newcastle United – Champions League Group F matches still to come:
Matchday 3: 25 October 2023
Newcastle United v Borussia Dortmund
PSG v AC Milan
Matchday 4: 7 November 2023
Borussia Dortmund v Newcastle United
AC Milan v PSG
Matchday 5: 28 November 2023
Paris Saint-Germain v Newcastle United
AC Milan v Borussia Dortmund
Matchday 6: 13 December 2023
Newcastle United v AC Milan
Borussia Dortmund v PSG