Trevan Sanusi signs for Newcastle United – Photo
Trevan Sanusi is now a Newcastle United player.
A formal announcement is still awaited but the very exciting teenager is now set to wear the black and white.
Trevan Sanusi moving from Birmingham to St James' Park, with the transfer fee / development compensation almost certainly set to be decided by a tribunal, as is so often the case now when young players move.
The Secret Scout account first brought news of England Under 16s international right-back Leo Shahar moving from Wolves to Newcastle.
The same account having done the same with Trevan Sanusi.
Excellent work by Dan Ashworth and his people to land this exciting talent ahead of Liverpool (see below) and a host of other top clubs.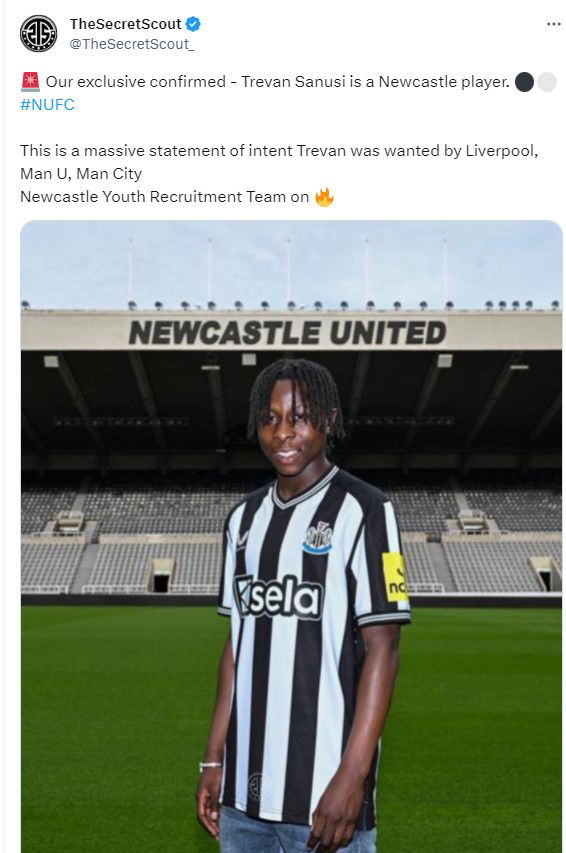 Dan Ashworth spearheading a massive programme of bringing in the best possible talent for the future health of the club.
Needless to say, the time and money getting put into this process, couldn't be any different to what we experienced under Mike Ashley for a decade and a half.
The Mag – 2 September 2023:
Now reported on both Tyneside and Merseyside, as well as elsewhere, that Newcastle United have beaten Liverpool to the signature of Trevan Sanusi.
The very exciting teenager said to now be set to be announced very shortly as the latest young talent Dan Ashworth is bringing to the club.
He looks an exceptional talent and Newcastle United fans, in my opinion, need to appreciate just how good the future building blocks are being put in place now that the club is run on a proper ambitious basis, for the here and now AND especially the longer-term.
A very interesting write up below from independent Liverpool site, Anfield Index.
Credit to them for giving such an honest (not bitter and snide) overview of the apparent NUFC transfer success and the direction of travel Newcastle United are going in.
Just have a look at this compilation of the skills and action from Trevan Sanusi, which was put together eight months ago when he was just 15 years old (he doesn't turn 17 until next April). Wow!!! (Maybe turn the music down, you can't have everything…)
Anfield Index report – 2 September 2023:
HOW NEWCASTLE UTD SECURED TREVAN SANUSI OVER LIVERPOOL AND OTHERS
THE UNDER-THE-RADAR NEGOTIATIONS
In a move that has sent ripples through the Premier League, Newcastle United have successfully secured the signing of Trevan Sanusi, the highly-touted 16-year-old winger. The club's sporting director, Dan Ashworth, played a pivotal role in ensuring that the prodigy would be donning the black and white stripes at St James' Park.
THE COMPETITION FOR SANUSI
The race for Sanusi was a fierce one, with Premier League giants such as Liverpool, Manchester United, Tottenham Hotspur, and Manchester City all vying for the youngster's signature. However, Newcastle's meticulous planning and strategic moves paid off, allowing them to edge out their rivals in what can only be described as a coup.
WHY SANUSI IS A BIG DEAL
Sanusi is no ordinary talent. After declining a contract extension with Birmingham City earlier this summer, he became one of the most coveted young talents in English football. His performances at the youth level have been nothing short of extraordinary, earning him a spot in Birmingham's senior squad for a Championship match against Sheffield United last May. Had he made an appearance, he would have surpassed Jude Bellingham as Birmingham's youngest-ever player.
NEWCASTLE'S YOUTHFUL ASPIRATIONS
Sanusi's imminent arrival is part of a broader strategy by Newcastle to invest in young talent. The club recently announced the signing of 17-year-old Norwegian Travis Hernes and is also expected to bring in Wolves full-back Leo Shahar. These new additions will join a growing list of young talents at Newcastle, including Sam Pinnington from Luton, Sam Alabi from Oldham, Kacey Wooster from Southend, and Michael Mills from Port Vale.
WHAT'S NEXT?
With Sanusi's signing soon to be officially announced, Newcastle United have made a statement of intent. They may not have the financial muscle of a Liverpool or a Manchester City, but what they lack in resources, they make up for in shrewd planning and execution. It's a quiet triumph, but one that could have significant implications for the club's future.