Eddie's history making Mags man…
Feels a bit harsh on Sheffield United this, as following on from Milan at the San Siro could result in unfavourable comparisons in terms of the glamour of the trip.
In the long run though, this game could prove every bit as vital, as future Champions League endeavours will not be occurring unless we get the bread and butter of the Premier League sorted out.
Having got the worst away trip in the league out of the way and followed it up with a horror show at the AMEX, this was a chance for United to start hitting a bit of form on the road. If the narrow win against Brentford the previous weekend could be capitalised on, this would make for a hell of a week.
There were slight notes of concern from the manager's quotes that training had been limited due to the emotional impact of the trip to Milan. Sheff Utd no doubt noted this with interest, although there was every chance this could have been a bit of classic Eddie misdirection. This could be a pivotal afternoon, with the seed planted of fatigue induced underperformance against a side that seems a bit underwhelming for the Premier League. Alternatively, the weakest opponent since the start of the season presented the opportunity for things to click. However, I don't think anyone could have foreseen what was coming.
I had a bit of an adventure heading down here as I'd taken the less appealing option of a sober day driving there and back.
When I arrived to pick my mate up (who, to protect his identity I will only refer to as Butch) I found him massively in the proverbial dog house. The four day jaunt to Milan earlier in the week had ended with him writing off his car and he'd followed this up with a magnificent breakdown of communication where his wife was unaware he was nashing off to Sheffield for the day.
I suggested we scarper licketty split but he never really had full conviction in his decision and the next few hours were filled with anxious text messages. You know the ones; "you're an effing such and such" "stick it up your whatever", "I'm going to welly you in the thingmebobs". Standard stuff.
Still, he managed to get his game head on and we found a nice convenient parking spot at the nearby uni, a brief explore and off to Bramall Lane. I'm sure anyone who's been to any of this year's away games will share the sense of fear that the ticket Gestapo demands to see your papers, but yet again it was a smooth and straightforward entry, meaning we were in the ground way too early. Our tickets said Row C, but there were no rows A and B so we found ourselves t the very front, right outside the post of the goal that Newcastle would be attacking second half.
We hoped there wouldn't be too much to see in that goal first half, but Sheff Utd actually had a couple of early chances, finding space at the back post only to miscue their efforts horribly on both occasions. Early warning signs as we seemed to be trying to contain the opponent for the early exchanges. It appeared that matters would not be helped when Harvey Barnes broke down with an injury that saw him replaced very early by Gordon. Hopefully Barnes, who walked off gingerly, is just suffering from a bit of a niggle, but it was to be a change that defined the game.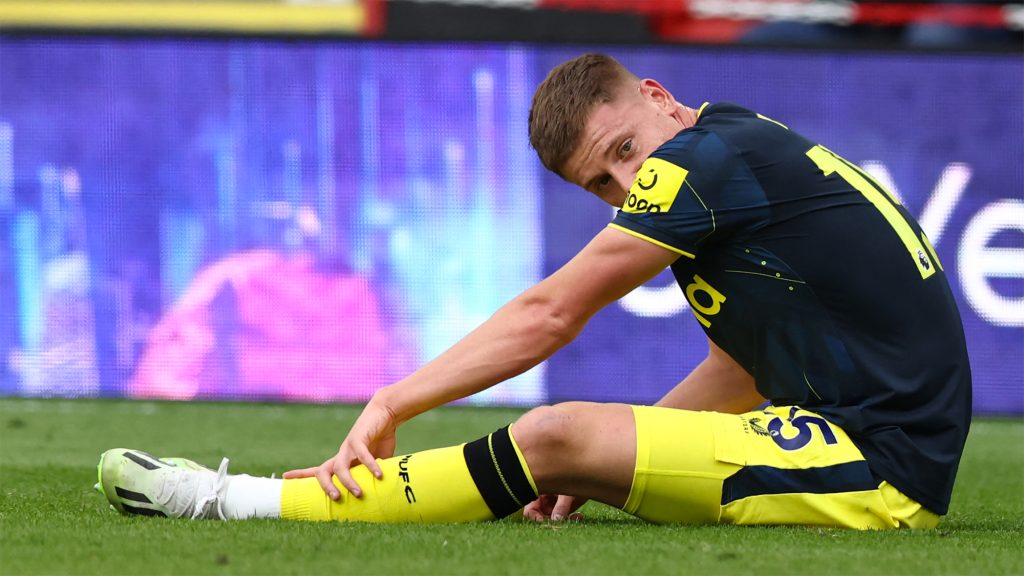 Gordon was magnificent again, as the old school honest pros of the Sheff U defence couldn't live with his pace and dribbling.
The first breakthrough came when he received Burn's attacking throw in and steamed to the byline, turned his man and cut the ball back for Longstaff to smash in. Suggestion of handball as he turned but it was clearly accidental and apparently that's OK if you're not the actual goalscorer.
I should point something out here before I'm called a fraud by anyone who has ever been in the front row at a game. The stuff going on down the other end of the pitch is a series of blurs from this vantage point and the recall I have here is a mixture of rough recollections reinforced by the coverage from Match of the Day 2.
Fortunately for me the second goal was easy enough to spot as it was scored by the biggest bloke on the pitch in fairly straightforward circumstances, Trippier delivering a free kick that Dan Burn steamed in to head home at the back post. Geordies scoring everywhere.
Moments later, a horrible, cynical, Championship-style tackle from Robinson on Longstaff earned a free kick from which justice was duly dispensed. Trippier again with the delivery and Botman guiding a brilliant glanced header across goal and in at the far post for his first goal for Newcastle. If these big lads are going to start converting the headers at set pieces we're going to do some scoring this season.
It stayed 3-0 at half time despite Gordon going down in the box under a challenge. The VAR check took a while but we couldn't feel too disappointed to be going in at the break three goals to the good. However, the replays of this show it to be a blatant and obvious penalty, with Gordon having his leg clearly kicked out from under him by Bogle. We'll pocket that decision and have it when we need it more thanks.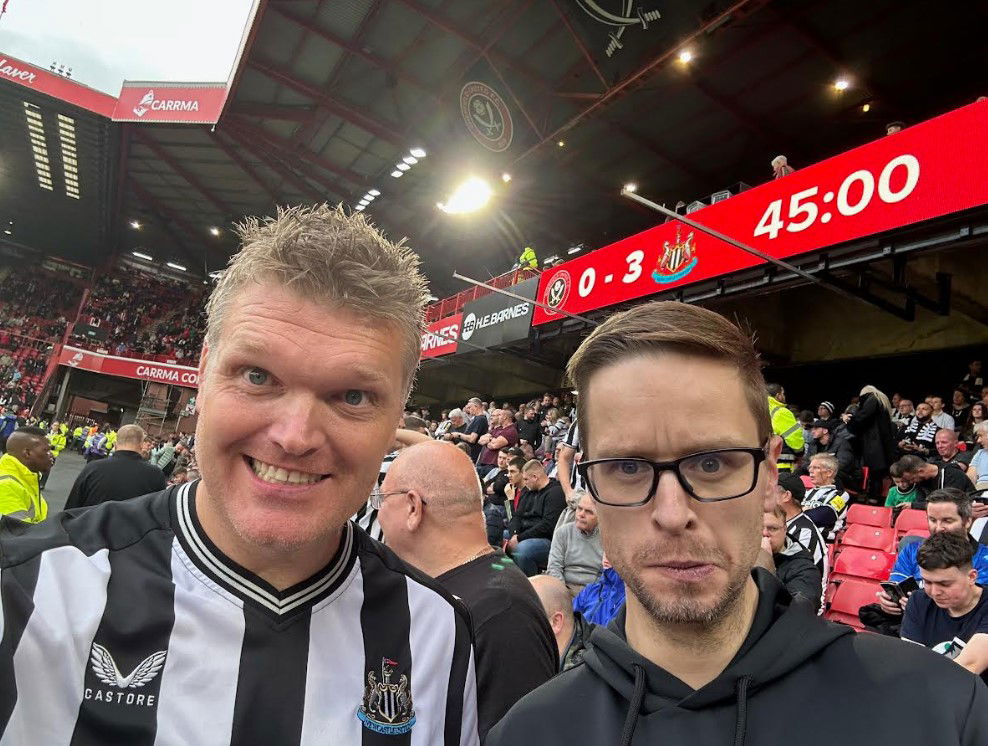 At this point I have to confess to being a bit embarrassing in the second half, as I was conscious any Newcastle goals could be celebrated right in front of me and, as a result, see me turn up on the TV. There were some Newcastle goals and my self conscious camera jockery brought back memories of a trip to Villa Park years ago when they were filming crowd reactions for the film Goal! I still cringe at my Roy of the Rovers level over the top overacting in an attempt to get myself in the film. Didn't work either.
Anyway, I soon had the chance to practice, as Newcastle pulled four goals clear and killed any lingering hope of a contest. Schar's deft through ball released Trippier and his perfect first time cross allowed the unmarked Wilson to head in from close range. I celebrated heartily and returned Callum's salute. That will have looked smashing on Sky.
Sheff Utd were clearly broken now and it was just wave after wave of attack. Gordon cut inside and was afforded space by Dan Burn's overlapping run, which he used quite magnificently to cane one into the bottom corner from outside the box.
Butch had missed the previous couple of days work due to the after-effects of his car boo boo, and soon received a text with a picture of us celebrating behind the ecstatic Gordon, asking if he was feeling better.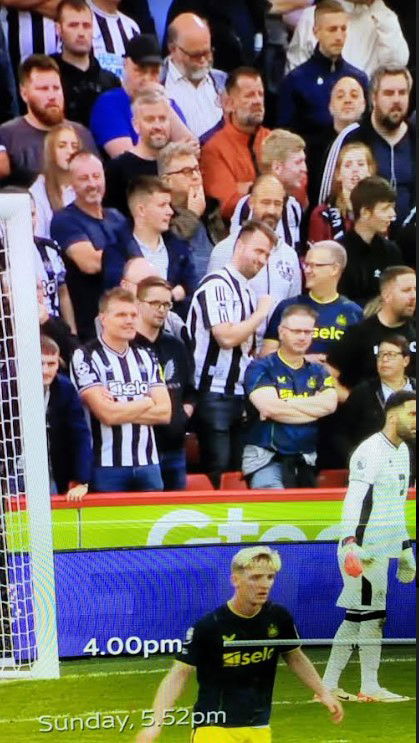 Course, there's nowt wrong with pulling yourself round in time for the weekend and I'd advise you all to tell that to The Man.
Any worries of taking the foot off the gas with a cluster of big games ahead were ill-founded, although it didn't take much acceleration to further bury the unravelling Blades. Bruno just passed the ball forward for Almiron to run onto virtually untroubled, steering past the despairing keeper for number six. We were now in the territory where you had to check the scoreboard to remind yourself how many. With 20 minutes to go you had to think about how this might end up…
Eddie changed things up a bit, giving Isak, Tonali and Livramento run outs and allowing a bit of respite for Wilson, Trippier and Miggy. Isak got straight involved, bamboozling the defence and seeing the ball break to Longstaff, whose blocked shot fell neatly for Bruno to control and smack in.
He celebrated with a dedication to his imminently arriving second son, whereas my wife said my arms aloft, fists clenched celebration was getting a bit repetitive and that it was causing my shirt to lift up and expose belly. Thanks pet.
Next was Isak himself, seizing on a shocking header back and sitting the defender down before finishing sharply past the onrushing goalie. Arms up, fists clenched. Next time I'm doing the celebration David Brent pulls off when he wins the real quiz.
Absolute scenes at full time as the few hardy Sheff Utd fans remaining trailed out (respect for sticking it out) while the travelling fans stayed put to serenade Eddie and the lads.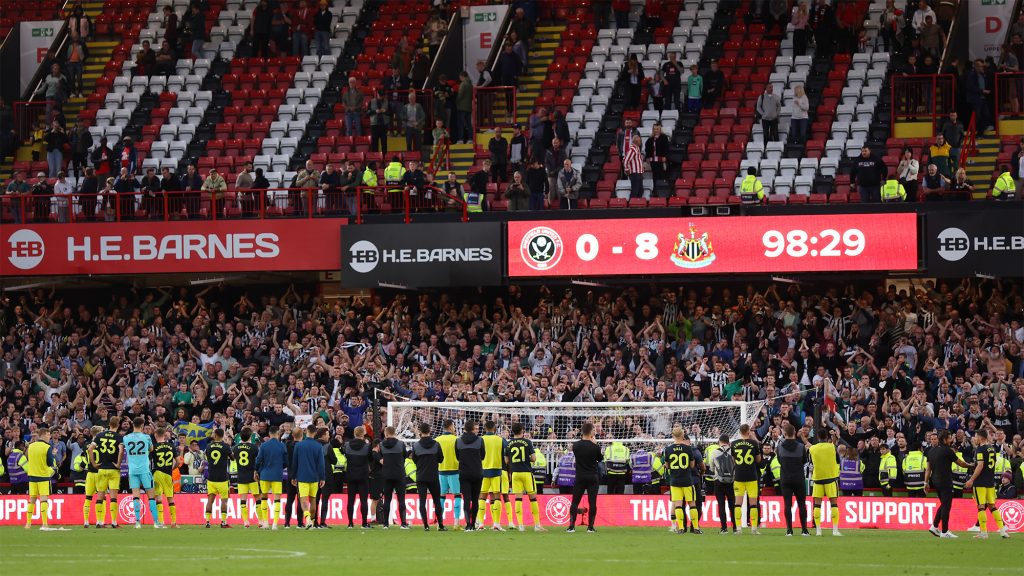 When they took off, me and Butch made our way back to the car only to discover the route to the car park was blocked by a partizan home bar that looked like a cross between the Slaughtered Lamb from an American Werewolf in London and Mos Eisley cantina in Star Wars. Ended up having to walk right round as some teenage hard lads started giving it to the laughing Newcastle fans ("You're supposed to be in school") before jumping in the car and heading straight up the A1.
So, a few stats.
The occupants of that away end were witnesses to the biggest ever away win in Newcastle United's history. I was one of what I'm sure will be a few that completed the double of witnessing this almighty score against both Sheffield clubs, having seen Shearer destroy Wednesday some 24 years ago. These are our joint biggest wins in the Premier League.
The eight different goal scorers was a Premier League record, as well as being remarkable in itself that all the strikes were shared equally. The obvious boost to our goal difference saw Newcastle move up to (fittingly) 8th place, with real hope of retaking our place in the top six against another promoted club next week, although Burnley do seem slightly better equipped for the top flight than their fellow promotees.
Perhaps most importantly of all, this will have given United their mojo back well and truly. Last week I compared the ground out narrow win against Brentford to the Wolves game last year. Today's thunderstorm can be similarly compared to free scoring displays last year at Fulham, West Ham or Everton, that showed everything was clicking and there could be real positives ahead. That visit of Burnley is an opportunity to correct course entirely in the league, but it is sandwiched between important cup games against two of the best sides in the world, with an interesting question as to who will make the starting line up against what Guardiola has hinted will be a below strength Man City.
A tremendous day that will live long in the memory, it's been a positive three games and here's hoping that we have another week of the same ahead, with the bonus of all three being at St James after the recent adventures. And all is well that ends well, as Butch returned home buoyed by the positive effects of witnessing History.
Eddie's history making mags man…
Stats from BBC Sport:
Sheffield United 0 Newcastle United 8 – Sunday 24 September 4.30pm
Goals:
Newcastle United:
Longstaff 21, Burn 31, Botman 35, Wilson 56, Gordon 61, Almiron 68, Bruno73, Isak 87
Sheffield United:
(Half-time stats in brackets)
Possession was Sheff Utd 42% (46%)  Newcastle 58% (54%)
Total shots were Sheff Utd 9 (6) Newcastle 22 (12)
Shots on target were Sheff Utd 1 (1) Newcastle 15 (8)
Corners were Sheff Utd 2 (2) Newcastle 6 (4)
Referee: Stuart Attwell
Newcastle United:
Pope, Trippier (Livarmento 70), Schar, Botman, Burn, Longstaff, Bruno (Hall 81), Anderson, Almiron (Tonali 70), Wilson (Isak 70), Barnes (Gordon 12)
UNUSED SUBS:
Dubravka, Lascelles, Targett, Murphy
(Sheffield United 0 Newcastle United 8 – Match ratings and comments on all of the NUFC players – Read HERE)
(Sheffield United 0 Newcastle United 8 – Instant NUFC fan / writer reaction – Read HERE)
(Sheffield United 0 Newcastle United 8 (EIGHT!) – Record breakers – Read HERE)
You can follow the author on Twitter @Mr_Dolf